Dark Knight Cast And Crew Tease Third Batman Film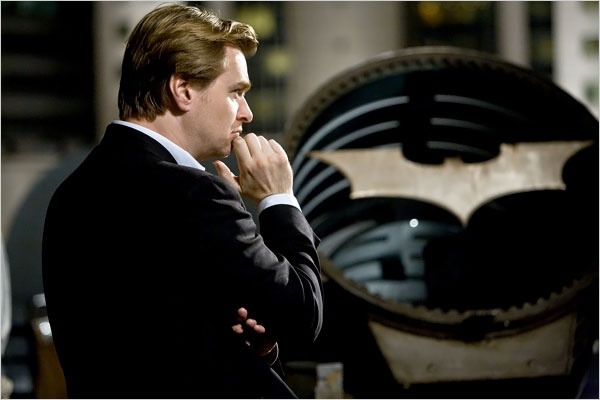 I don't think I'm spoiling anything by telling you that The Dark Knight ends with the promise of more. A semi-cliffhanger. They have certainly upped the ante for a third film, the question is... will they make one? Director Christopher Nolan has made it clear in numerous interviews that he's not thinking about another sequel. Rumor has it that Nolan wants to tackle something else next (possibly The Prisoner?). We had the chance to talk to Nolan and the cast, and here is what we learned.
"I knew what I wanted to do with the end of the film before we wrote the story. I wanted the film to feel very complete, which isn't the same as having a feeling of finality in the ending," said Nolan. "There was a particular emotion from the ending, and a particular thing we were after in terms of expressing something about Batman, and bringing the entire story back to him. So that it becomes once again, Batman's film at the very end. He dealt with a very wide number of characters, interacting in all kinds of extraordinary ways. At the end of the day we just wanted to nail the relevance of hero, our core character."
Since the ending was there from the conception, I asked Nolan if he had a plan for a third film.
"I don't know what I'd do next, or what would happen next," Nolan responded. "I felt in doing a sequel that it would be a big mistake to try to hold anything back for future films. You have to put everything you can into this movie and try and make it as great as it can be."
Christian Bale wants more but admits that it's all up to Chris.
"I always like to have to think when I'm leaving the theater. I do love any movie that leaves me questioning what has happened, what is going to happen," said Bale. "I see that in finishing the movie I want to know what will happen, what is going to happen. But it is completely in the hands of Chris, weather he decides to do that or not. It will be a lot of money that he didn't give you any indication if that was going to happen or not? But it's completely his decision." Later adding: "I can't imagine doing this without Chris. I don't even want to consider that because he's created this. This is his."
But he's certainly up for the challenge.
"I think there is a great challenge to it for two reasons: one is that there have been a number of sequels that have surpassed the first movie. You know, you look at Godfather 2, Empire Strikes Back... There have not been many where the third in a trilogy has managed to be the best. And I see that as a good enough reason to want to tackle it. There is also another challenge that Heath has done such a superb job with this, then how do you create a superior villain?"
Bale brings up an interesting question. What villain or villains could they possibly tackle in a third film? For the answer we went to the screenwriters, David Goyer and Jonah Nolan.
"We're not gonna tell you... other than to say that Batman has been published for 70 years. In the first movie we use Ra's Al Ghul and The Scarecrow, who had not been in the movies before, and had not been in the sixties TV show before. And there are dozens if not hundreds of other characters that fit that bill. Everyone says its gotta be The Penguin or Catwoman... well I completely disagree."
So while the screenwriters won't admit they have talked about another sequel, I think it's obvious they have thought about the possibilities. Jonah says that with The Dark Knight the idea from the beginning was just to make a complete film. Goyer insists: "Both Movies still feel complete. I think if there was not a third one, it's not like 'Oh my God, these things haven't been answered.'"
So will the Dark Knight return again?
"I think Warner Bros would like to do another one," Goyer admitted. "But it wasn't until three or four months after Batman Begins had opened that Chris and I sat down and talked about another one. It was a scary proposition trying to do Dark Knight, and it's sort of a geometrically scary proposition to try to do another one."
The Dark Knight hits theaters on July 18th 2008.
Discuss: What Batman Villains would you like to see in the next movie?