UPDATED: Quentin Tarantino Shopping Inglorious Bastards To Studios. Brad Pitt In Talks To Star. Plus, Slashfilm Debate!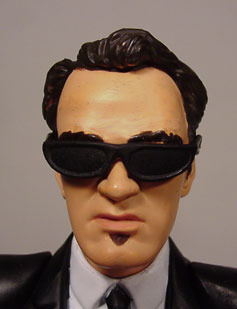 UPDATED 07/09/08: QT is still keeping his sights on an opening at Cannes next May!!!! Inglorious Bastards begins shooting in October. According to the Hollywood Reporter, the Weinsteins are co-producing the film and looking to team with another studio due to the film's "accelerated production schedule." Dude!UPDATED 07/08/08: Tarantino is reportedly now in talks with Brad Pitt to star in his WWII-Spaghetti Western blowout, Inglorious Bastards, according to Nikki Finke. Pitt previously starred as the stoner Floyd in True Romance, a QT script.
Before the update a few /Film readers speculated in the comments that Tarantino was going outside The Weinstein Co. to other studios in order to land a pricey cast of A-listers, the kind of Dream Team that's been rumored for years. Pitt is one step in that direction.
——-
SLASHFILM DEBATE: If you could only see one of the two during your lifetime and you would have the option to view the entire film RIGHT NOW: would you choose Inglorious Bastards or The Dark Knight? (Peter chose TDK and he's already seen it! Whoa. I choose Inglorious Bastards. And if TDK is better than Kill Bill, I'll eat a shoe on /filmcast. Stay tuned.)
——-
With a sea of Internetters joining the bring-it-on parade that is Inglorious Bastards IRL, Quentin Tarantino is now shopping his finished script around town to Warner Bros., Universal, Paramount and Sony. The news arrives today via Nikki Finke, and she's quick to point out that one studio is missing from the list: The Weinstein Co.
Before anyone signals a hungry death knell, Harvey Weinstein is reportedly producing the film(s) with Lawrence Bender (cool), but if true, TWC loses its blue-chip auteur to the competition, the iconic talent who was a money-luring cornerstone in the company's aggressive formation. All of QT's films dating back to Reservoir Dogs (and Four Rooms even) on through Death Proof have carried the TWC/Miramax bumper. Sniffle. With other mavericks of a generation like Robert Rodriguez (Barbarella) and Kevin Smith (Red State) taking their projects elsewhere as of late—albeit amicably—QT's departure will be seen as yet another sign of money troubles and newly restrained creative risk at TWC. As Finke speculates, Grindhouse's financial blunder aside, the company's investors are probably not psyched.
The exclusion of TWC as a financial backer worries me a bit. The Weinsteins offered QT all the room he needed to put his vision on screen time and time again, down to obsessive minutiae. A new studio could  prove problematic after filming on IB has started, given the expected epic scope of the project and, well,  QT. I mean, it's QT. On the flip-side, some feel that Inglorious Bastards is a hard sell and a risk, but I disagree, especially after Pitt's possible involvement leaked today. Kill Bill relied on Uma Thurman, not the biggest box office draw then or now, to carry two films back to back, and each grossed over $65 million domestically. IB will most likely have a recognizable and buzzing ensemble cast, possibly making for one of the most macho effing movies ever created; this automatically puts it a notch above in terms of accessibility compared to KB's cultish brew of chopsocky homage. Also: the "war films aren't popular" theory doesn't fly here I feel.