Okie Noodling 2 Movie Trailer (Will Give You Nightmares)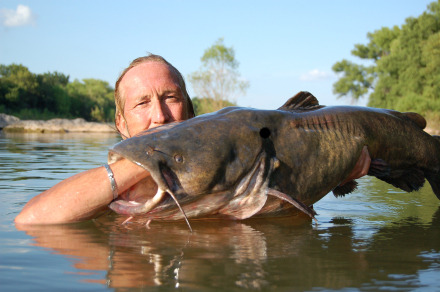 "I'm not about to stick my hand up in no place where I cain't see," says a desk cop in the new trailer for Okie Noodling 2, a new documentary on humans in Oklahoma who stick their hands down the mouths of mutant-like catfish, muscle them to shore in a fit of pirouettes (and mud and blood) and brag about it.
As seen in director Bradley Beesley's cult documentary from 2001 (scored by the Flaming Lips), the process is called "noodling," and the sequel examines how the backwoods phenomena is currently vying to take over baseball via YouTube and insomniac TV (alongside other "sports" like UFC, Tumblr and competitive eating) as America's favorite past time. The trailer conjures the brilliance of Heavy Metal Parking Lot and many will find these two minutes more terrifying than premature glimpses of Jaws or Unsolved Mysteries at age six. Dumb IRL fun or Freudian nightmare? The bizarre title screen at the end offers no sane answers, just cartoon blood.
Okie Noodling 2 screens at the Alamo Ritz in Austin, Texas on July 7th (today) at 7 p.m., and at the Hollywood Theatre in Portland, Oregon on July 25th. For info on the DVD, go here.
Discuss: Would you purchase an Okie Noodling box set?
via Totally Lame