Huey Lewis And The News' "Pineapple Express" Hits Web. Nice.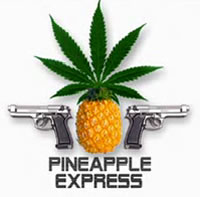 Today brings us, "Pineapple Express," the sooo '80s and agreeable theme song for Seth Rogen's pot actioner of the same name by Huey Lewis and the News (Sports, Patrick Bateman's Walkman). If you thought Huey might try to imitate the Neptunes, please excuse yourself and go bask in I Love the New Millenium, because this track could have been the adulterated b-side to BTTF's "Back in Time." Is it better? No way. Does it make you want to do a cannonball with a joint in your mouth and a hamburger in your left hand? Obviously.
You can stream the film's entire soundtrack on MySpace, which includes tracks from Cypress Hill (so '90s), Peter Tosh, Bell Biv Devoe (my second babysitter, Pam, is siked!), Public Enemy and Mountain. Wow, Huey Lewis just said "chronic" in his signature happy hour jock croon. M.I.A. move over. Summer '08 just got lazier and so much higher.
Discuss: Is this the new "Back in Time"?