TV: Jason Schwartzman In HBO's Bored To Death / Tim Roth In Fox's Lie To Me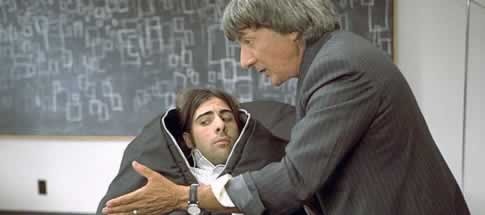 Jason Schwartzman (Rushmore, Spun, Coconut Records) will play an aging Brooklynite/alcoholic writer who experiences a nasty breakup and finds himself in the position of a Philip Marlowe-ish gumshoe in the new HBO series Bored to Death. Written by former New York Press columnist and novelist, Jonathan Ames, the half-hour comedy will go into production this September. Seth Gordon, director of The King of Kong, will work as a consultant on the show.
Schwartzman's character "takes out an ad pretending to be a private detective and starts taking cases — solving some and making others worse." You may remember that back in 2004 Schwartzman starred in the failed Fox sitcom, Cracking Up, from writer Mike White (The School of Rock). Ames also began developing a semi-autobiographical pilot for Showtime the same year, but it was never picked up. Based on the logline, it's easy to picture Schwartzman making the role and premise into an irreverent hit.
HBO also has the series, Hung, in development from creator/director Alexander Payne and weeks ago I took a look at the pilot script for Cocaine Cowboys, the rumored series for HBO from Jerry Bruckheimer and Michael Bay.
via Hollywood Reporter / Buzz Sugar
The iffier logline belongs to Lie to Me, a one-hour drama for Fox starring Tim Roth as a "scientist/human lie detector, skilled at reading the human face, body and voice to uncover the truth in criminal and private investigations." Shades of House: the character's talent/gift makes it difficult for him to maintain personal relationships.
As long as Lie to Me isn't peppered with computer-generated eyeball schematics of various suspects in the vein of Robocop, we'll check it out. Variety reports that the material is inspired by the real life science and life long studies of psychologist/deception specialist Dr. Paul Eckman. Brian Grazer is exec-producing the show, which has been picked up for 13 eps, and begins shooting in August.
Discuss: Good day for TV, no? Which show sounds more appealing?