Gary Oldman Confirms Roles In Robert Zemeckis' A Christmas Carol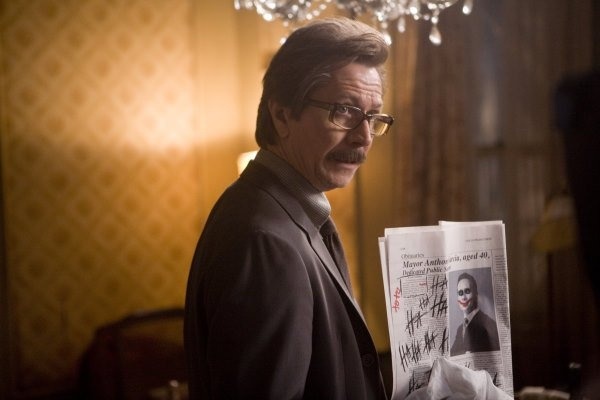 Gary Oldman not only confirmed that he is in Robert Zemeckis' upcoming performance capture adaptation of A Christmas Carol, but revealed that he is playing three characters in the film.
"I play [the ghost of] Marley, Bob Cratchit, and Tiny Tim," Oldman told /Film at the Dark Knight junket. "I saw the designs, and the realizations of London and the characters. The design of it, and the look of it, is beautiful. It's quite stunning. It should be quite magical."
Oldman isnt the only one playing multiple roles. The film stars Jim Carrey as Ebenezer Scrooge, the Ghost of Christmas Past, the Ghost of Christmas Present, and the Ghost of Christmas Yet To Come. At one point Michael J. Fox was rumored to be Tiny Tim, and Christopher Lloyd as Marley's ghost. Both Zemeckis regulars are even inaccurately listed as such on imdb. Oldman talks about the unusual performance capture process for Tiny Tim:
"They put you in a trench. They're on platforms that they wheel in and wheel out. So you've got all this crew moving floor around. And when I'm walking on my crutches, the actors are much higher than me, so the eyelines work. And later they will animate little legs on me," Oldman said. "It would be so expensive to do it [live action]. And you can do things with the ghosts that you couldn't do in the more conventional way. Much like [Batman Begins and The Dark Knight], [Zemeckis] has sort of reinvented The Christmas Carol. It's probably closer to how Dickens saw it."
Oldman insists that while the process is different than a normal movie, it isn't that different.
"It's kind of like shooting a regular movie I think. Alot of people say 'working in that motion capture with Bob Zemeckis, it's like theater, isn't it?' And often the people who have never done theater say that. I don't think it's like theater, but I feel it's like doing a regular movie, but without the breaks abd the costumes. You just keep going, and there is no lighting, so you don't have to wait for two hours while they turn the set around. You actually keep filming."
Oldman can be seen next in The Dark Knight, which hits theaters on July 18th 2008.