Bolt Movie Trailer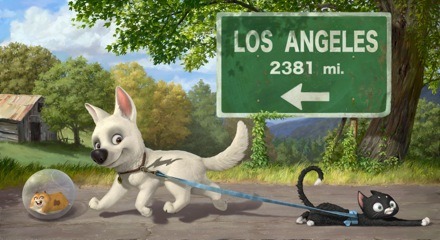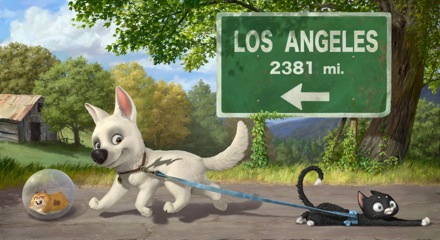 Disney has released the trailer for Bolt. Does anyone else find it ironic that an Elvis Presley song is used in the trailer for a movie in which Lilo & Stitch director Chris Sanders was removed as director? I talked about the controversy behind this project last week, if you haven't had a chance, check it out here.
I'll admit that because of the backstory, it's hard for me to be accept Disney's reworking of Sander's original designs. But aside from the groan inducing trick opening, the movie doest look all that bad. Sure, the characters and situations don't look nearly as interesting or as original as Sander's designs, but it also doesn't look as generic as past Disney efforts. Plus releasing the film in 3D at least guarantees a fun theatrical experience. Could it be the John Lasseter effect? I'd be interested to hear the opinions of readers who didn't feel an attachment to Sander's American Dog concept art. What do you think?
[flv:http://bitcast-a.bitgravity.com/slashfilm/trailers/bolttrailer.flv 470 252]
For super-dog Bolt (voiced by John Travolta), every day is filled with adventure, danger and intrigue – at least until the cameras stop rolling. When the canine star of a hit TV show is accidentally shipped from his Hollywood soundstage to New York City, he begins his biggest adventure yet – a cross-country journey through the real world. Armed only with the delusions that all his amazing feats and powers are real, and with the help of two unlikely traveling companions – a jaded, abandoned housecat named Mittens (voiced by Susie Essman), and TV-obsessed hamster in a plastic ball named Rhino – Bolt discovers he doesn't need superpowers to be a hero. Miley Cyrus ("Hannah Montana") brings her vocal talents to the role of Penny, Bolt's human co-star on the television series.
Watch the trailer in High Definition on Yahoo. Bolt will hit theaters on November 26th, 2008 in Disney Digital 3-D™