WALL-E - The Best Reviewed Movie Of 2008?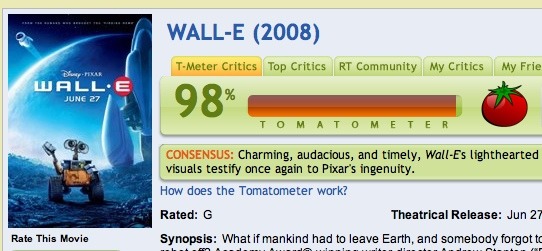 What movie should you see this weekend? Wanted is surprisingly good, and will likely beat your expectations. I can honestly recommend it...  but the clear winner is WALL-E.
So far the little robot that could has a 98% tomatoemeter rating on Rotten Tomatoes with over 40 reviews. Actually, only one reviewer gave a negative critique. It helps to know that Phil Villarreal of the Arizona Daily Star also gave M Night's The Happening a three out of four star review... Point is, WALL-E is the best reviewed mainstream release so far this year. We'll see how it holds up after the weekend as 100-150 more reviews will likely be added to the database. But I'm sure it will remain above 90%. Wanted is currently scoring 68% on the tomatometer.
Best Reviewed Mainstream Releases of 2008 (so far)
1. WALL-E 98%
2. Iron Man 93%
3. Kung Fu Panda 88%
4. Forgetting Sarah Marshall 86%