Burn After Reading Poster Inspired By Saul Bass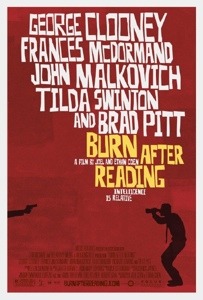 The movie poster for Coen Brothers's Burn After Reading is one of my favorite posters released this year. The distinctive style is a call back to the one-sheets of legendary poster/title artist Saul Bass. I have included some of the great Bass posters which might have inspired this new design below. Click on the image to the right to see it in larger resolution on Cinematical.
Written and directed by The Coen Brothers, this new dark-spy comedy stars Academy Award nominee John Malkovich as an ousted CIA official, whose memoir accidentally falls into the hands of two unwise gym employees (Brad Pitt and Frances McDormand) intent on exploiting their find. Also featuring George Clooney, Tilda Swinton and Richard Jenkins. If you haven't already, you should watch the red band movie trailer.
Burn After Reading will hit theaters on September 12th 2008.