This Week In DVD: Be Kind Rewind, Fool's Gold, Roscoe Jenkins And More
This Week in DVD is a new column on /Film compiling all the latest info regarding new DVD releases, sales, and exclusive deals from stores including Target, Best Buy, Circuit City, and Fry's.

BE KIND REWIND
As disappointed as I was personally by Be Kind Rewind, the latest film from director Michel Gondry (of Eternal Sunshine of the Spotless Mind fame), there's no denying that the film's garnered a positive response amongst both audiences and critics, and thus, it would be unfair of me to label it under "The Bad." The premise is undeniably terrific: two video store employees find their tapes completely erased and decide to resolve the problem by shooting their own zero-budget remakes. If nothing else, I'm glad this film was made because it led to the wondrous filmmaking development known as "sweding," which has led to such hilarious reworkings of classics as Star Wars: The Empire Strikes Back.
Blu-ray? Yes.
Notable Extras: The only extra offered here is a featurette that essentially acts as a tribute to the town where the film was set. Additionally, there's been one scene added to the film for the DVD, dubbed "Michel Gondry's Added Train Scene." It's unfortunate that not even the full uncut "sweded" films have been made available, which I'm sure many fans would have loved to see.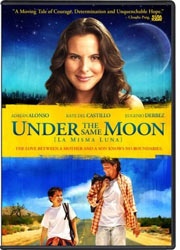 UNDER THE SAME MOON
For those who enjoy warm, heartfelt dramas and don't mind having to read subtitles, this intimate tale exploring illegal immigration from the perspective of a mother and young boy attempting to reunite across the Mexican/US Border is definitely worthy of a rental. Like so many dramas of its kind, it's said to be sentimental and manipulative, but those things can be overlooked in favor of the solid lead performances and touching storytelling.
Blu-ray? No.
Notable Extras: An audio commentary, deleted scenes, and a couple making-of featurettes.
EXCLUSIVE DEAL:
What? Bonus Disc
Where? Target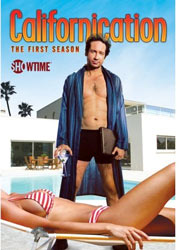 CALIFORNICATION (SEASON 1)
Showtime's crude, edgy sitcom is gathering all 12 episodes of its first season and heading to DVD. The show stars David Duchovny as a drug-sex-and-booze-loving LA writer who hates his job and finds himself at a loss trying to handle his relationship with his daughter and ex-girlfriend. The critical response so far has been mostly positive, claiming that the show is brisk, charmingly crass, and that it has just enough wit to sustain it.
Blu-ray? No.
Notable Extras: Nothing, unless you count Showtime's default inclusion of two other TV show episodes (the ones here being from Dexter and The Tudors).
EXCLUSIVE DEAL:
What? Bonus Disc
Where? Target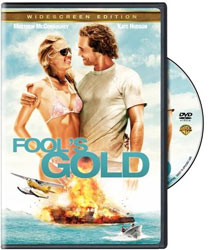 FOOL'S GOLD
Kate Hudson may be attractive, but she's got nothing on Jessica Alba, and seeing as how Alba was the only good thing about Into the Blue, which Fool's Gold is basically identical to, that doesn't bode well for the film's quality. Add to that an utter lack of chemistry among its lead stars and gags that only qualify as comedy in the loosest sense of the word, and you have yourself one hell of a forgettable 90 minutes.
Blu-ray? Yes.
Notable Extras: A gag reel and a featurette detailing the repairing of McConaughey and Hudson.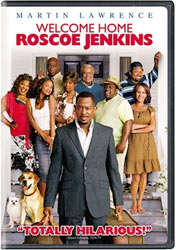 WELCOME HOME ROSCOE JENKINS
With a 3.2 out of 10 ranking on IMDB as of writing this, it's hard to tell whether Welcome Home Roscoe Jenkins is actually even worse the trailers indicated or there's just some major backlash over African American-based comedies following the increased popularity of Tyler Perry films. Whatever the case, I think we can be rest assured that there's no harm in skipping yet another Martin Lawrence film, because the prospect of it being stomach-churningly awful continues to remain several times more likely than it being halfway decent.
Blu-ray? No.
Notable Extras: A commentary, deleted scenes, outtakes, a making-of, and reflections from the cast on their own experiences returning home after becoming a success.
MY MOM'S NEW BOYFRIEND
In case you were wondering what happened to that terrible-looking Antonio Banderas/Meg Ryan action-romantic-comedy about an up-and-coming FBI agent who's given the task of finding out if his mom's boyfriend is a prominent gang leader, the answer lies on DVD, where it's been dumped without even the slightest attempt at making it look like anything beyond the turd it's guaranteed to be. For the unsuspecting, the high profile cast alone will probably convince people to give it a rent, but hopefully hearing the film's laughably silly premise will encourage people to look elsewhere.
Blu-ray? No.
Notable Extras: Deleted scenes and a making-of featurette.
Also available this week...
Chaos Theory – Rails & Ties – Just Add Water – Jericho (Season 2) – Super High Me – The Sword in the Stone (45th Anniversary Special Edition) – ER (Season 9) – Burn Notice (Season 1) – So I Married an Axe Murderer (Special Edition) – Caramel
Discuss: What are you planning to rent or buy this week?


Exclusive: Free $5 gift card with purchase of both The Sword in the Stone (45th Anniversary Edition) and The Jungle Book 2 (Special Edition).

Exclusive: Free e-movie cash (up to $7.50) to see Hancock when you buy any of the following $9.99 and $14.99 DVDs.
$9.99 – Bad Boys, Bad Boys II, The Fifth Element, Stand By Me, Snatch, Underworld, Underworld: Evolution
$14.99 – Men in Black II, Gridiron Gang, Ghost Rider
$14.99 – Weeds (Season 1), Weeds (Season 2)
$19.99 – Dexter (Season 1), The Tudors (Season 1)
$27.99 – Lost (Season 3), Desperate Housewives (Season 3)

Exclusive: Free e-movie cash (up to $7.50) to see Hancock when you buy Men in Black on Blu-ray.
$4.99 – Black Hawk Down, A Knight's Tale, A History of Violence, Capote, Spider-Man, Spider-Man 2, Once Upon a Time in Mexico, Tears of the Sun, Domino, Running Scared, The Untouchables, Syriana, Collateral, Patriot Games, Minority Report, Sleepers, Snatch, and more...
$6.99 – Inside Man, The 40 Year Old Virgin (Unrated), Bruce Almighty, The Jerk (26th Anniversary Edition), Assault on Precinct 13, Two for the Money, Bring it On, Waist Deep, and more..
Buy one, get one free ($14.99) – Memento (Limited Edition), Final Fantasy VII: Advent Children, Midnight Express (20 Anniversary Edition), Curse of the Golden Flower, The Da Vinci Code (2-Disc Special Edition), Casino Royale (2-Disc Special Edition), The Fifth Element, Rocky Balboa, Vacancy, and more...

$4.99 – Matchstick Men, Insomnia, Firewall, The Dukes of Hazzard
$5.99 – Monster's Ball, The Running Man (Special Edition), House of 1000 Corpses