M Night Shyamalan Talks The Last Airbender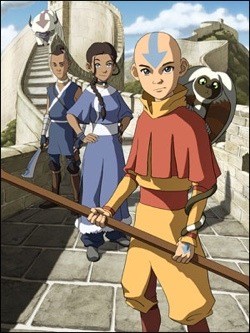 M Night Shyamalan has been doing limited press to promote his new film The Happening, and has been talking about his big screen adaptation of the popular Nickelodeon Anime-influenced animated series Avatar: The Last Airbender.
When the hostile Fire Nation threatens to enslave the Water, Earth, and Air Nations, a reluctant and irresponsible twelve-year-old named Aang, who must forgo his selfish wandering to learn to master his latent powers and face his destiny as the Avatar, the Chosen One who can restore the world order. Night describes the film to SciFiWire:
"It has martial arts and spirituality and the supernatural, and it has Buddhist philosophy and Hindu philosophy–really, everything I talk about–all in one movie," Shyamalan said. "It has a mythology. It's Shakespearean. It's all this incredible stuff, and it has a balance. All these movies are plays on magic, whether it's Lord of the Rings or The Matrix or Star Wars even, and each one of them relates to me in a different way, in its belief system."
Not that Night would compare the film to any of the previously mentioned films.
"I wish I could put my finger on what it is like to say, 'Oh, it's gonna be like Harry Potter or Lord of the Rings,' but it's not really like that," Night told RopesofSilicon. It's its own thing. We have been striving to find the right balance between a fantasy world, and anchoring it in a reality you can't quite put your finger on, but you know it's real."
Night also confirms The Last Airbender will be completely live-action and possibly even PG-13.
"It will be tough to keep it PG from PG-13. It will be tricky. I don't know how to make a PG movie so that's going to be much harder, because with R, everything was no problem," Shyamalan told ComingSoon. "The great thing about it is it's almost like they don't ever really touch each other based in this world. They kind of do a form of manifesting something and then it comes at the other person and they manifest something. It'll be great to do it as extensions of what the characters are feeling, and there'll be much more CG."
And Night insists in his interview with ROS that you'll be amazed at the depth and realism that he will create with CGI:
"I feel more confident that I can make the CGI something that when you see it, like when you see two years from now and you see the trailer for The Last Airbender you will go, "Wow," because you instinctively know that there is depth and reality to that moment of CGI."
Shyamalan is currently deep into the design process and set construction will begin in August. I have yet to watch the animated series, but have heard a lot of great things about the series (shockingly from people you would never expect to be watching cartoons on Nickelodeon). The mix of asian philosophy, magic, and mythology has certainly gotten my interest. The Last Airbender is being targeted for a July 2nd 2010 release.