The Wackness Official Movie Trailer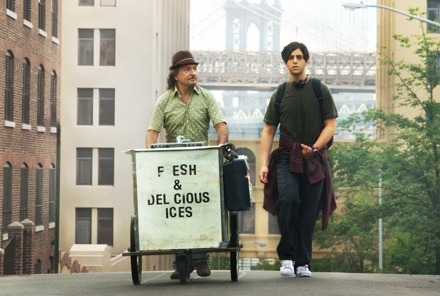 Sony Pictures Classics has released a new trailer for one of my favorite films of the year – The Wackness. They're calling it the "official trailer", and I actually like it much more than the the previously released teasers. It plays equal attention the relationships between Peck, Thirlby, and Kingsley, the 1990's nostalgia, and the incredible soundtrack. I could have done without the Mary-Kate Olsen button at the end, but I understand she might be a selling point.
Hunter points out that they probably should have played up some of the great critical reaction the film has gotten on the festival circuit. But at the same time I can understand that the target audience might not care about quotes from movie critics. I'm still waiting for the inevitable red band trailer. As I've said before, this film is a tough film to sell. Director Jonathan Levine told me that SPC was planning on doing a lot of word of mouth screenings to raise awareness. I think the best thing they could do is pack a theater with people and show them the film, as they will surely recommend it to ten of their friends.
[flv:http://bitcast-a.bitgravity.com/slashfilm/trailers/wacknesst4.flv 470 196]
Watch the trailer in High Definition on Yahoo. The Wackness hits theaters on July 3rd 2008.