Valkyrie Movie Trailer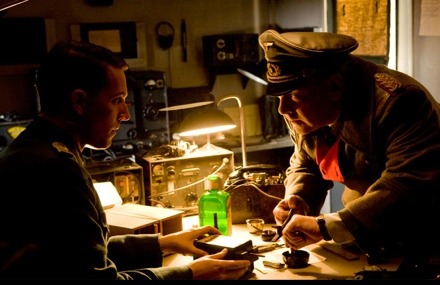 The bad buzz for Bryan Singer's Valkyrie has been building over the last few months. additional photography, added with a complete release date shift to February (after Awards Season), resulted in the release of negativity in Hollywood. It also doesn't help that Crusie's last film Lions For Lambs bombed. But so far everything I've seen about this film has been very impressive. From the screenplay, to the first production photos which included a comparison shot of Tom Cruise against the real life Col. Claus von Stauffenberg, to the teaser trailer that was released a few months back. Even bitter, angry Variety editors have recently written "several people I trust have seen VALKYRIE and testify that it's a superb thriller. 'Bryan Singer is back in form,' says one source."
The desire for this film to be a failure is massive. Everyone has purchased a pair of hater pants from the anti-Tom Cruise store (metaphorically speaking, I hope). I think everyone needs to watch the Valkyrie movie trailer below (note: it's not new), and form an opinion based on what is shown. Forget what you've read about the production, and put your passive aggressive Cruise-bashing feelings away. Tell me what you think in the comments below.
Official Plot Synopsis: The "July 20 Plot" on Hitler's life is one of the most heroic but least known episodes of World War Two. Severely wounded in combat, Colonel Claus von Stauffenberg returns from Africa to join the German Resistance and help create Operation Valkyrie, the complex plan that will allow a shadow government to replace Hitler's once he is dead. But fate and circumstance conspire to thrust Stauffenberg from one of many in the plot to a double-edged central role. Not only must he lead the coup and seize control of his nation's government... He must kill Hitler himself.Valkyrie hits theaters on February 13th 2009.