Pixar's Andrew Stanton Currently Writing John Carter Of Mars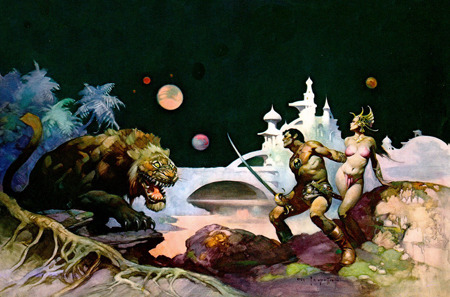 Hope everyone is having a nice weekend. I was just heading out to the pool to begin David Price's The Pixar Touch, when I saw that writer/director Andrew Stanton (Wall-E, Finding Nemo) has confirmed via the Pixar Blog that he's currently writing John Carter of Mars. Go figure. This isn't surprising news, we've known since 2007 that Pixar is developing a trilogy of films based on the epic sci-fi fantasy material–the first of which is due before 2012–but Stanton's confirmation drives it closer to reality. And that's not only awesome but sort of miraculous for this project, innit. There was no clarification by Stanton on whether the film will be live-action (like Brad Bird's 1906), animated or a secretive cocktail as rumored. I'm hoping for the former or the latter, what about you?
Here's the Slashfilm plot synopsis: A Princess of Mars by Edward Rice Burroughs was first published in 1917. The movie will follow Civil War vet John Carter, who is transplanted to Mars, where he discovers a lush, wildly diverse planet whose main inhabitants are 12-foot tall green barbarians. Finding himself a prisoner of these creatures, he escapes, only to encounter Dejah Thoris, Princess of Helium, who is in desperate need of a savior.
As many of us know, John Carter of Mars has enjoyed one of the longest vacays in development hell in all of cinema history. Prior to Pixar/Disney's involvement, Robert Rodriguez was most recently attached to direct for Paramount but that effort fizzled, somewhat infamously, due to his disagreements with the DGA. Looking at the Frank Frazetta artwork above and imagining similar high fantasy imagery shot through the Pixar prism makes my brain imitate Jiffy Pop. What happens once we all see Wall-E?
Discuss: Andrew Stanton's John Carter of Mars, destined for...greatness?