Cool Stuff: Alamo's Dawn Of The Dead Poster And Screening
The Alamo Drafthouse and Mondo Tees has returned again with another cool horror movie poster for their Rolling Roadshow screening of Dawn of the Dead. That's right, they're taking the movie, and screening it in the mall in Monroeville where the movie was filmed. How cool is that? I wish I could attend.
The screening takes place on June 21st, as part of the upcoming HorrorHound Weekend event in Pennsylvania the weekend of June 20-22nd, 2008. The screening will take place where the Monroeville Mall's old clock tower once stood, on a 50-foot screen, which will take over the Mall after closing time, Saturday June 21st. Over 500 fans will pack this special section of the Mall. Admission to this special screening is available at the HorrorHound Weekend event for only $5, with all proceeds going to charity. Toe Tag Pictures will be doing zombie make-up on guests all day leading up to the screening and over ten Dawn alumni will be on-hand. Read more on OriginalAlamo.com.
Printed on 100lb white art paper, James Rheem Davis's poster is 24x34, limited edition, signed and numbered. Regular version sells for $30. Do you see that picture on the top of the poster? I'm told that isn't a screen grab, it's actually all hand drawn? Insane.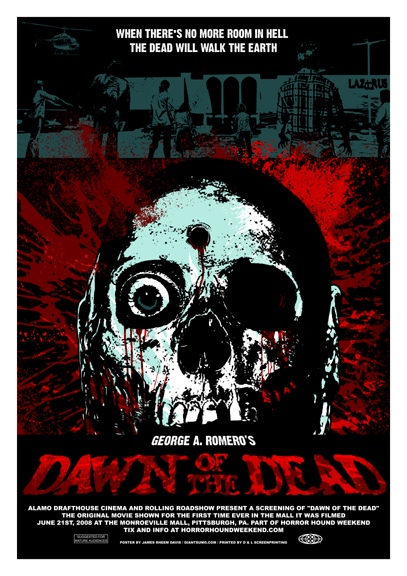 The variant poster has two tones of metallic silver, and sells for $50.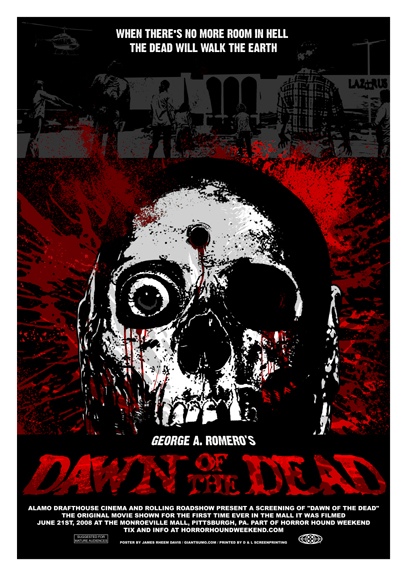 Cool Stuff is a daily feature of slashfilm.com. Know of any geekarific creations or cool products which should be featured on Cool Stuff? E-Mail us at orfilms@gmail.com.