UFC's Quinton Rampage Jackson Up For B.A. Baracus In The A-Team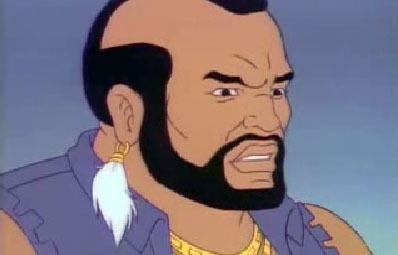 Are UFC leg-tanglers brawlers the new rapper actors (or "raptors" as coined by Vulture)? Last night, Ultimate Fighting champ, Quinton "Rampage" Jackson, was on Jimmy Kimmel Live, where it was announced that he's a contender for the role of B.A. Baracus in John Singleton's upcoming A-Team movie. You can watch the clip here to get a feeling for his mannerisms, and I've included a requisite photo with digital flames to the right. Yeah, he already wears that chain everywhere.
Kimmel: Now, what's going on with your hair...because I heard you're going to play–not Mr. T–but B.A. Baracus in the A-Team movie.
Rampage: I don't know what you're talking about, man. [laughs] No, I don't know. I gotta audition for it, you know what I'm sayin'? I gotta do a screen test. Hopefully I get the part, hopefully I'm the next B.A. Baracus.Kimmel: Has anyone broken it to Mr. T that he's not the new B.A. Baracus?Rampage: [pause] I pity the fool.
Rampage admitted in the interview that acting scares him more than fighting. He seems like a likable guy, sure, and if this was a Best of the Best straight-to-DVD sequel, I'd say he's pretty much perfect to play dueling twins. But it's not. Mr. T deserves better. Rampage might be more agreeable than Ice Cube or Tyrese or David Banner or Kenan Thompson (imagine), but if that's the sort of B/C-list grab bag Singleton is looking at, why not just call up T or Carl Weathers or Bo Jackson? If we have to keep it inside the ring, Kimbo Slice would be bonkers.
My friend, Shawn, thinks Katt Williams would be a wise choice, and while Katt's pretty good in GTA4, my choice is jersey-robbin' J.B. Smoove who plays Leon Black (!!!) on Curb Your Enthusiasm. That's the sound of me dropping a mic on stage. Gameover.
Discuss: Rampage or Mehpage? Who should play Baracus? Is UFC the new Hollywood talent pool?