Quentin Tarantino In Preproduction On Inglorious Bastards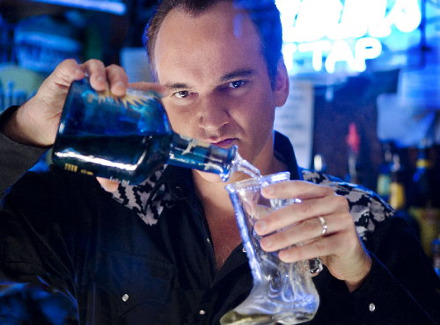 When Quentin Tarantino announced at the 2008 Cannes Film Festival that he was finally going to make his big war epic Inglorious Bastards, I commented that Tarantino sometimes comes off like a compulsive liar. Because, lets face it, how many projects has this guy promised over the years that have not and probably will never come to fruition (The Vega Brothers, The Psychic Remake, the Kill Bill Prequel/sequel... etc). I think the guy just has a lot of ideas that he enjoys talking about.
A year earlier Tarantino told me he was going to write the script while doing international press for Grindhouse. The only reason I think he did Grindhouse was because he had Rodriguez kicking him in the ass the whole way. And don't get me wrong, I LOVE LOVE LOVE Tarantino's filmography, but I've just gotten tired of being excited about the unproduced projects he's announced over the years. So when he revealed his plans to bring Bastards to the 2009 Cannes Film Festival, it seemed rather unlikely. But there might just be some truth to it after all.
Tarantino was scheduled to appear at the Alamo Drafthouse's Rolling Roadshow events in Spain but made a last minute cancellation. The official word is that "He has cleared all appearances to begin preproduction on his new feature, Inglorious Bastards." So it appears like Inglorious Bastards might be happening after all.
Tarantino has described Inglorious Bastards as a "Spaghetti Western set in France during World War II". Based Loosely on the premise of The Dirty Dozen, the story centers around a rag tag group of soldiers that are sent on a deadly mission as an alternative to being court-marshaled or put to death. Over the years the rumored cast list has included the likes of Michael Madsen, Adam Sandler, Eddie Murph, Sly Stallone Paul Walker, Eddie Murphy, Sylvester Stallone, Tim Roth, Julie Dreyfus, Bo Svenson and Enzo Castellari.
source: Tarantino Archives via JoBlo