Ninja Assassin Details Revealed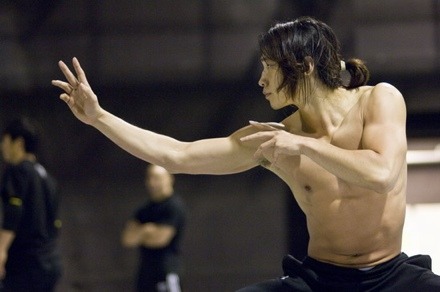 Warner Bros has released new details on The Wachowski Brothers-produced Ninja Assassin. As you probably already know, Ninja Assassin is directed by James McTeigue (V For Vendetta) from a screenplay by Matthew Sand and J. Michael Straczynski. The film stars stars Korean pop star Rain (Speed Racer) as Raizo, one of the deadliest assassins in the world.
"Taken from the streets as a child, he was transformed into a trained killer by the Ozunu Clan, a secret society whose very existence is considered a myth. But haunted by the merciless execution of his friend by the Clan, Raizo breaks free from them... and vanishes. Now he waits, preparing to exact his revenge.
In Berlin, Europol agent Mika Coretti (Naomie Harris) has stumbled upon a money trail linking several political murders to an underground network of untraceable assassins from the Far East. Defying the orders of her superior, Ryan Maslow (Ben Miles), Mika digs into top secret agency files to learn the truth behind the murders. Her investigation makes her a target, and the Ozunu Clan sends a team of killers, led by the lethal Takeshi (Rick Yune), to silence her forever. Raizo saves Mika from her attackers, but he knows that the Clan will not rest until they are both eliminated. Now, entangled in a deadly game of cat and mouse through the streets of Europe, Raizo and Mika must trust one another if they hope to survive... and finally bring down the elusive Ozunu Clan."
The film also stars legendary martial arts performer Sho Kosugi (Revenge of the Ninja) as the ruthless leader of the Ozunu Clan. Sounds like it could be a very cool Ninja action film. I was really impressed with McTeigue's V for Vendetta, but The Invasion was a disaster, although I'm not sure McTeigue can really be blamed for not being able to fix the mess that was handed to him.
he behind-the-scenes creative team includes director of photography Karl Walter Lindenlaub (Independence Day, Prince Caspian), production designer Graham "Grace" Walker (Pitch Black, Gothika), costume designer Carlo Poggioli (Cold Mountain) and editor Giancarlo Ganziano. The Wachowski brothers' longtime stunt coordinators Chad Stahelski and David Leitch are also on board as second unit co-directors. Joel Silver, Grant Hill, Larry Wachowski and Andy Wachowski are producing, with Thomas Tull, Jon Jashni and William Fay serving as executive producers.
Principal photography has started at Babelsberg Studios and on location in various parts of Berlin.