An E-Mail From Luke Shapiro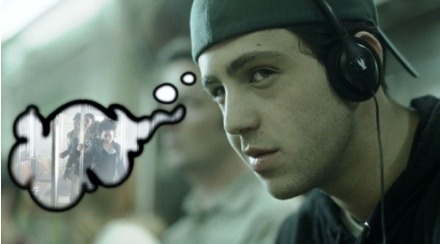 I just got an e-mail from Luke Shapiro. I only mention this because Luke Shapiro is a fictional character in a movie (one of my favorite movies of the year – The Wackness). And by that, I don't mean that someone who liked the movie adopted the name of their favorite character for their online nickname (like OptimusPrime2007). The character from the movie actually e-mailed me.
—-
From: Luke Shapiro
To: /Film
Date: Wed, May 28, 2008 at 4:37 PM
Subject: yo...
Yo, yo, yo, check out this video. I found it in the archives. My doorman and super are crazy dope. Stay tuned for more episodes of my flyness.
http://www.youtube.com/watch?v=i1dfRdeYcGg
—-
The YouTube link above leads to footage from a public access show created by Luke Shapiro in 1994. The footage was apparently recently discovered in the archives of a Manhattan Cable television station. And while I love the idea of marketing The Wackness using viral videos like this with the character of Luke Shapiro (played by Josh Peck), but aside from the opening, this video comes off like a bad Mad TV sketch (and is nothing like the tone of the film). But I like the idea, and I love the film, so I'm posting it.