Page 2
Here is a round up of stories that just didn't make the /Film front page, or what we like to call.... Page 2!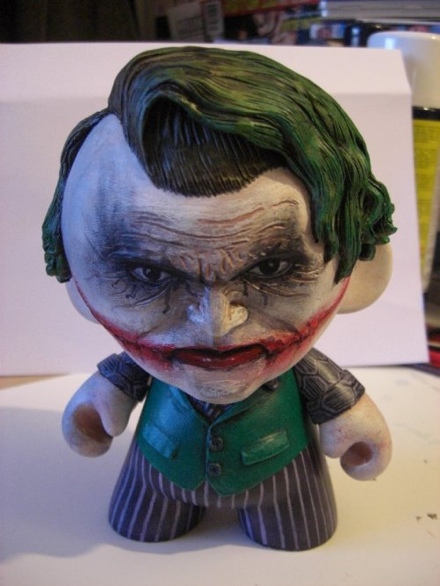 Lobster Johnson created this custom Heath Ledger-version Joker Munny.Patrick Read Johnson has found financing to complete post production on his autobiographical indie "77," (formerly titled 5/25/77) which chronicles the director's journeys in Hollywood with George Lucas and Steven Spielberg. [THR]William Shatner claims JJ Abrams never called him back. [trekmovie]
Warner Bros has scheduled a September 19th release date for Whiteout. [shock]
JustJared has new photos from the set of Crank 2: High Voltage which show star Jason Statham with some nasty fake scars on his back.WALL-E was given a G-Rating by the MPAA.  [animatednews]Cineleet takes a look at the influences of Star Wars in a column titled Before the Galaxy Far, Far Away.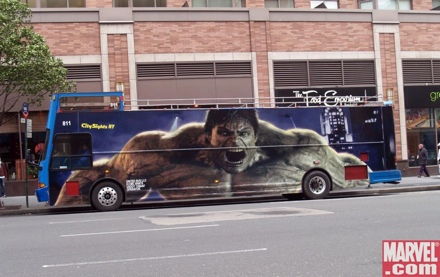 The Incredible Hulk has invaded New York City. Head over to Marvel for more images.Eric Lively, Tony Todd and Gil Bellows have been cast in the "24" prequel. [THR]MTV has the first chapter of Vern's new book Seagalogy: A Study of the Ass-Kicking Films of Steven Seagal.
Sony Pictures Classics is in final negotiations for James Toback's boxing documentary "Tyson," which chronicles the life of former heavyweight champion Mike Tyson. [THR]
MovieMistakes has a list of over 70 mistakes from the original Indiana Jones series.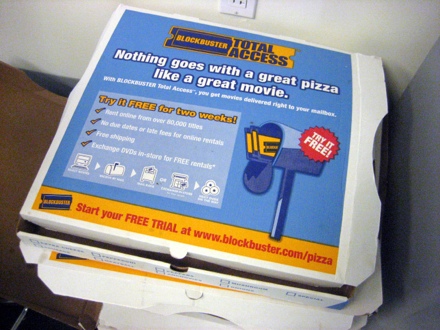 Blockbuster is advertising on Pizza boxes?! [Gizmodo]
Rotten Tomatoes takes a look at the top 20 sequels they're still waiting for.The Disney Movie Surfers have taken a behind-the-scenes look at WALL-E, and new footage is featured.Fanboy has a look at all the Indiana Jones Knock-Offs in a segment they call The Hall of Shame.
Jim Hill blogs about the lost action sequences where Indiana Jones battled samurai and a machine-gun toting warlord, that was cut from Raiders of the Lost Ark.
The Daily Mail has the first photo of a bald Cameron Diaz on the set of My Sister's Keeper. Scary!Star Wars: The Clone Wars will be rated PG for "sci-fi action violence throughout, brief language and momentary smoking." [io9]
NBC will air a special Incredible Hulk-themed episode of "American Gladiators" with guest star Lou Ferrigno. [SHH]
Madonna's newest film, a documentary about the struggles of Malawi, titled I Am Because We Are, will screen at Michael Moore's Traverse City Film Festival in August. [variety]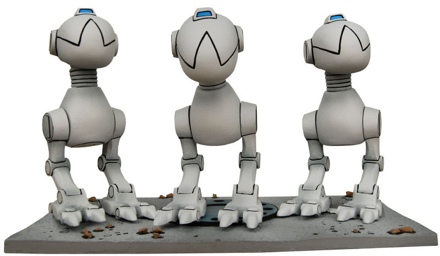 One of NECA's comic con exclusives is an action figure three pack from Teenage Mutant Ninja Turtles featuring a set of three Mousers. [mechzilla]
FestivalCentral asks people at Cannes how to pronounce the title of Charlie Kaufman's directorial debut Synecdoche, New York. Jeff Wells reports that Kaufman says the pronunciation is "Syn-ECK-duh-kee."

Blogwarts has yet another new (but way too small) photo from Harry Potter and the Half-Blood Prince.
Twentieth Century Fox paid $550,000 to the Smithsonian Institution for the right to use its name in Night at the Museum 2: Escape From the Smithsonian. [sci-fi]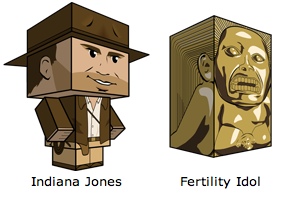 Build your own cubecraft Indiana Jones and Golden Idol on Cubecraft.com.
Fangoria reports that actor Glenn Morshower is set to return to Transformers 2. Morshower is best known for playing a secret service agent in 24, and appeared in the original movie as a military Sargent at the US Soccent.X-Men Origins: Wolverine has wrapped principal photography. [iesb]
Check out these two videos from Sundance, director, writer and actor Clark Gregg discusses his new film Choke. [searchlight]