New Righteous Kill Movie Trailer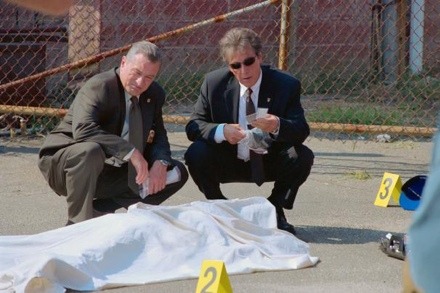 Overture Films has released the second movie trailer for Righteous Kill. Obviously the main selling point for this film is the fact that Al Pacino and Robert De Niro team-up for the first time in cinematic history (sure, they shared a scene together in Heat, but we don't count that). I'm a big advocate of story. It's almost impossible to make a great film with a lackluster story. But having these two guys in the lead would normally turn even a lackluster story into a must watch film. But one must remember that the same guy who made Righteous Kill, also made 88 Minutes, one of the worst films of the year (17% on metacritic), and which also starred Al Pacino. Check out the new trailer below and tell me what you think in the comments!
[flv:http://bitcast-a.bitgravity.com/slashfilm/trailers/righteouskill2.flv 470 264]
Official Plot Synopsis: Academy Award® winners Robert De Niro (Raging Bull) and Al Pacino (Scent of a Woman) star as a pair of veteran New York City police detectives on the trail of a vigilante serial killer in the adrenaline fueled psychological thriller Righteous Kill, directed by Jon Avnet (Red Corner, Fried Green Tomatoes) and written by Russell Gewirtz (Inside Man).  After 30 years as partners in the pressure cooker environment of the NYPD, highly decorated Detectives David Fisk and Thomas Cowan should be ready for retirement, but aren't.  Before they can hang up their badges, they are called in to investigate the murder of a notorious pimp, which appears to have ties to a case they solved years before.
Like the original murder, the victim is a suspected criminal whose body is found accompanied by a four line poem justifying the killing. When additional crimes take place, it becomes clear the detectives are looking for a serial killer, one who targets criminals that have fallen through the cracks of the judicial system. His mission is to do what the cops can't do on their own-take the culprits off the streets for good. The similarities between the recent killings and their earlier case raise a nagging question: Did they put the wrong man behind bars?  The cast also features hip-hop superstar Curtis "50 Cent" Jackson (Get Rich or Die Tryin').
Righteous Kill hits theaters on September 12th 2008.