Thursday Box Office: Indiana Jones Returns With $26 Million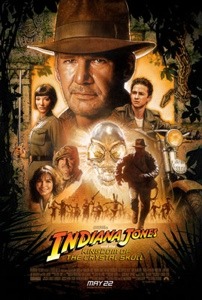 The early first day box office estimates for Indiana Jones and the Kingdom of the Crystal Skull have arrived. Steve Mason is reporting the film took in $26 Million. Nikki Finke says that "analysts believed that any total over $18 million for Thursday would be considered major moolah."Â  The Wednesday midnight shows were also a bit softer-than-expected (around $4 million).
The film is said to be playing "very strongly with families," showing good ticket sales for early evening show-times, but thinning out later in the evening. But tracking is showing that the film's three strongest demos are 45-69, 35-44, and 25-34, which may translate into larger than expected Saturday, Sunday and Monday matinee shows. The film is also expected to make more in the coming weeks due to the older demo. Older moviegoers generally wait until the second or third weekend to see a theatrical movie, avoiding the teen crowds.
Early Thursday Night Estimates
1. Indiana Jones & the Kingdom of the Crystal Skull (Paramount) – $26 million, $6,103 PTA, $26 million cume
2. The Chronicles of Narnia: Prince Caspian (Disney) – $2.46 million, $626 PTA, $68.14 million cume
3. Iron Man (Paramount) – $1.77 million, $427 PTA, $232.11 million cume
4. What Happens in Vegas (20th Century Fox) – $1.09 million, $337 PTA, $45.32 million cume
5. Made of Honor (Sony) – $423,000, $160 PTA, $35.72 million cume