Choke Movie Poster

Fox Searchlight has released the teaser poster for the Clark Gregg's big screen adaption of Fight Club author Chuck Palahniuk's Choke. The poster features a silhouette of Sam Rockwell choking on either Kelly Macdonal or Anjelica Huston. Either way I'm not sure I get the symbology, but it's certainly a cool looking image.
You can read my fanboy review from Sundance or Mel Valentin's review from SXSW. Fox Searchlight told us that Mel might actually be quoted in some of the pre-release advertising ("vulgar, crude, profane, blasphemous, obscene, and, best of all, hilarious" â€" Mel Valentin, SLASHFILM.COM).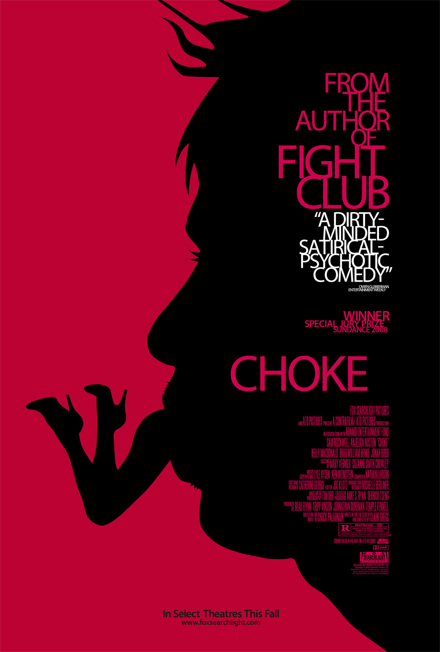 Official Plot Synopsis: Victor Mancini (Rockwell), a sex-addicted med-school dropout, who keeps his increasingly deranged mother, Ida (Huston), in an expensive private medical hospital by working days as a historical reenactor at a Colonial Williamsburg theme park. At night Victor runs a scam by deliberately choking in upscale restaurants to form parasitic relationships with the wealthy patrons who "save" him. When, in a rare lucid movement, Ida reveals that she has withheld the shocking truth of his father's identity, Victor enlists the aid of his best friend, Denny (Henke) and his mother's beautiful attending physician, Dr. Paige Marshall (Macdonald), to solve the mystery before the truth of his possibly divine parentage is lost forever. The film is adapted from the best-selling, critically acclaimed novel by Chuck Palahniuk.Choke will open in theaters on September 26th 2008.
source: Fox Searchlight via IMPAwards