The Wackness Movie Trailer #3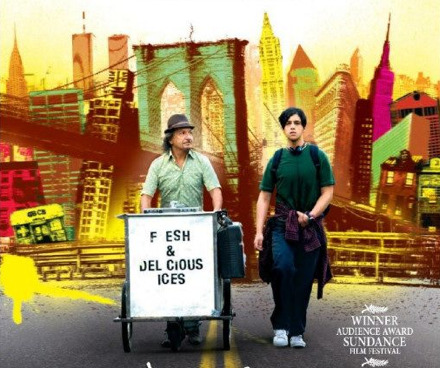 When I first saw The Wackness in January at Sundance, I proclaimed that it was one of my favorite films of the year so far. It's very easy to make such claims in the first couple weeks of a new year, especially when you're in Park City. I've seen the film now four times, in three different states. We're now almost half way through 2008, and I can tell you without a doubt, the film stands up.
The Wackness will find an audience, because frankly, it's a good movie. Problem is, the film is hard to market. Almost every character in the film smokes, the lead character sells drugs, none of which can be shown in a green band movie trailer. To top it off, the film is a period film, set in the mid-90's, enough to tempt any marketing department to use crazy 90's colors and graphics, none of which is appealing to people today because, well, "it's so 90's." But I think this new teaser trailer does a better job of explaining things. It's really hard to take a step back. Having seen the films so many times now, it's almost like your brain fills in the blanks.
The new teaser focuses on the relationship between Josh Peck and Olivia Thirlby's characters. I'm still waiting for a two and a half minute theatrical trailer. When I interviewed director Jonathan Levine a couple weeks back, he told me they're working on a kick ass red band trailer which should help sell the movie more for what it is, and not only the g-rated elements they're allowed to show you. I hear Sony Pictures Classics is going to run a lot of advanced screenings, because word of mouth is really the only way to get the word out about this film. Anyway, watch the new teaser trailer below and tell me what you think in the comments.
[flv:http://bitcast-a.bitgravity.com/slashfilm/trailers/wacknessfull.flv 470 200]
Watch the trailer in High Definition on Apple.com. The Wackness hits theaters in New York and Los Angeles on July 3rd 2008.
Official Plot Synopsis: It's the summer of 1994, and the streets of New York are pulsing with hip-hop and wafting with the sweet aroma of marijuana-but change is in the air. The newly-inaugurated mayor, Rudy Giuliani, is beginning to implement his anti-fun initiatives against "crimes" like noisy portable radios, graffiti and public drunkenness. Set against this backdrop, Luke Shapiro (Josh Peck) spends his last summer before college selling dope throughout New York City, trading it with his shrink (Ben Kingsley) for therapy, while crushing on his step daughter (Olivia Thirlby). Famke Janssen, Mary Kate Olsen,and Method Man round out the cast in this edgy, bittersweet, and funny coming of age story.
Discuss: What do you think of the new trailer for The Wackness.