JJ Abrams' Fringe And Joss Whedon's Dollhouse: New Info, Photos, Posters, Trailers, And More
Update: We've added new video clips from both Fringe and Dollhouse.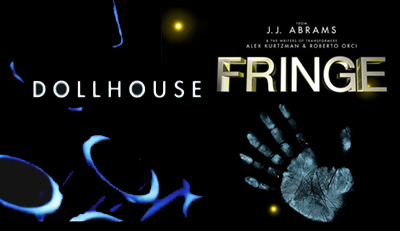 We reported a couple days back in Page 2 that both JJ Abrams' Fringe and Joss Whedon's Dollhouse were picked up by Fox. We have new information and the first batch of marketing materials including posters, photos and trailers for both shows. So let's take a look into the future of geek television.
Official Plot Synopsis
FRINGE: From J.J. Abrams ("Lost"), Roberto Orci and Alex Kurtzman, the team behind "Star Trek," "Mission: Impossible III" and "Alias," comes a new drama that will thrill, terrify and explore the blurring line between science fiction and reality. When an international flight lands at Boston's Logan Airport and the passengers and crew have all died grisly deaths, FBI Special Agent OLIVIA DUNHAM (newcomer Anna Torv) is called in to investigate. After her partner, Special Agent JOHN SCOTT (Mark Valley, "Boston Legal"), is nearly killed during the investigation, a desperate Olivia searches frantically for someone to help, leading her to DR. WALTER BISHOP (John Noble, "Lord of the Rings"), our generation's Einstein. There's only one catch: he's been institutionalized for the last 20 years, and the only way to question him requires pulling his estranged son PETER (Joshua Jackson, "Dawson's Creek") in to help. When Olivia's investigation leads her to manipulative corporate executive NINA SHARP (Blair Brown, "Altered States"), our unlikely trio along with fellow FBI Agents PHILLIP BROYLES (Lance Reddick, "The Wire"), CHARLIE FRANCIS (Kirk Acevedo, "Oz") and ASTRID FARNSWORTH (Jasika Nicole, "Law & Order: Criminal Intent") will discover that what happened on Flight 627 is only a small piece of a larger, more shocking truth.
WRITERS: J.J. Abrams, Roberto Orci, Alex Kurtzman
DIRECTOR: Alex Graves
CAST: Anna Torv as Olivia Dunham, Joshua Jackson as Peter Bishop, John Noble as Walter Bishop, Lance Reddick as Phillip Broyles, Kirk Acevedo as Charlie Francis, Mark Valley as John Scott, Blair Brown as Nina Sharp, Jasika Nicole as Astrid Farnsworth
DOLLHOUSE: Joss Whedon, creator of groundbreaking cult favorites "Buffy the Vampire Slayer" and "Firefly," returns to television and reunites with fellow "Buffy" alumna Eliza Dushku for a thrilling new drama, DOLLHOUSE. ECHO (Dushku) is an "Active," a member of a highly illegal and underground group who have had their personalities wiped clean so they can be imprinted with any number of new personas. Confined to a secret facility known as the "Dollhouse," Echo and the other Actives including SIERRA (Dichen Lachman, "Neighbours") and VICTOR (Enver Gjokaj, "The Unit") carry out engagements assigned by ADELLE (Olivia Williams, "X-Men: The Last Stand," "Rushmore"), one of the Dollhouse leaders. The engagements cater to the wealthy, powerful and connected, and require the Actives to immerse themselves in all manner of scenarios romantic, criminal, uplifting, dangerous, comical and the occasional "pro bono" good deed. After each scenario, Echo, always under the watchful eye of her handler BOYD (Harry Lennix, "Commander in Chief," 24), returns to the mysterious Dollhouse where her thoughts, feelings and experiences are erased by TOPHER (Fran Kranz, "Welcome to the Captain"), the Dollhouse's genius programmer. Echo enters the next scenario with no memory of before. Or does she? As the series progresses, FBI Agent PAUL SMITH (Tahmoh Penikett, "Battlestar Galactica") pieces together clues that lead him closer to the Dollhouse, while Echo stops forgetting, her memories begin to return and she slowly pieces together her mysterious past. DOLLHOUSE revolves around Echo's blossoming self-awareness and her desire to discover her true identity. But with each new engagement, comes a new memory and increased danger inside and outside the Dollhouse.
PRODUCTION COMPANIES: 20th Century Fox Television, Mutant Enemy Inc.
EXECUTIVE PRODUCER/WRITER/DIRECTOR: Joss Whedon
CAST: Eliza Dushku as Echo, Olivia Williams as Adelle, Tahmoh Penikett as Paul, Fran Kranz as Topher, Dichen Lachman as Sierra, Enver Gjokaj as Victor, Harry Lennix as Boyd
Time Slots
Fringe will premiere this fall on Tuesday Nights at 9:00pm after House (following American Idol starting in January)
Dollhouse will premeire in January on Monday Nights at 8:00pm in the Sarah Connor Chronicles timeslot, right before 24.
Production Photos
Dollhouse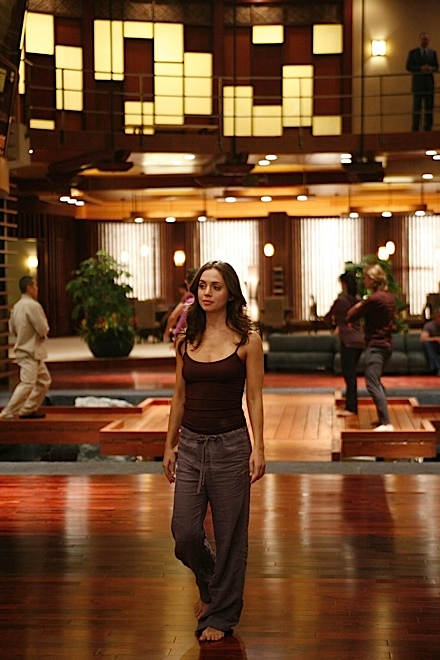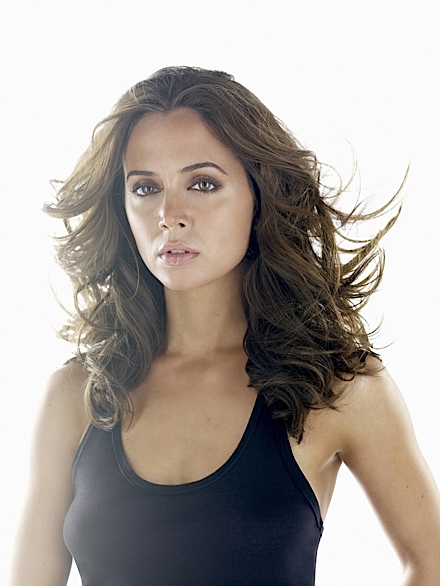 Fringe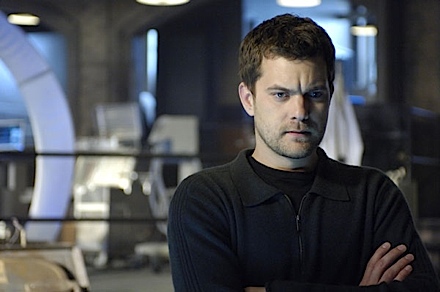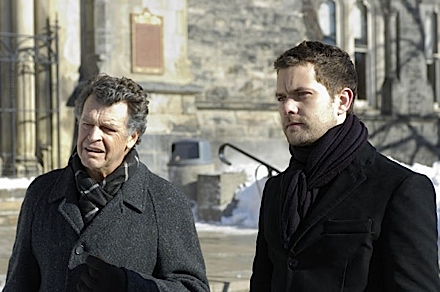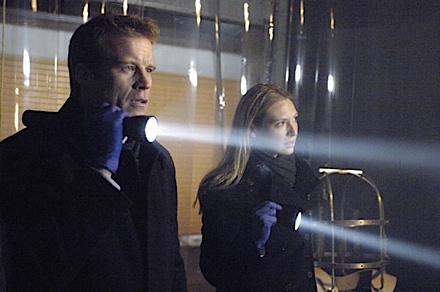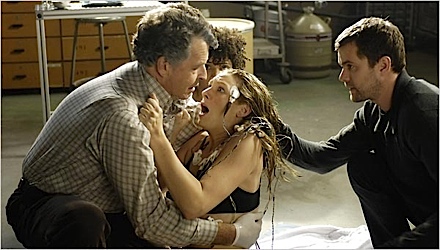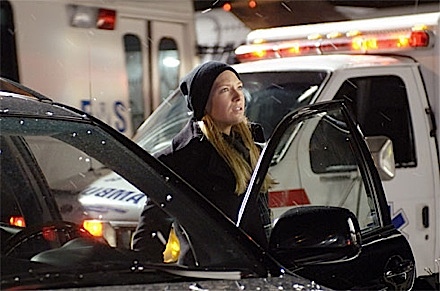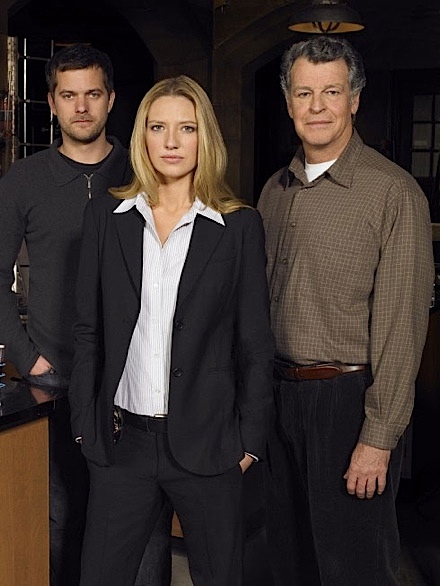 Trailers
[flv:http://bitcast-a.bitgravity.com/slashfilm/trailers/dollhousetrailer.flv 470 352]
Video Clips
Fringe
Dollhouse
Posters
Expect to start seeing billboards for this show immediately.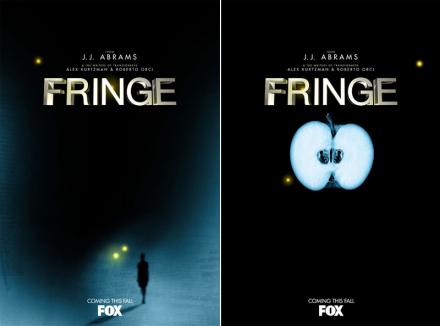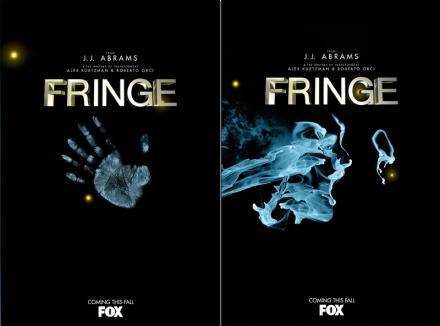 My Thoughts
I'm a huge fan of Abrams, although I'll agree that both of the filmmakers are probably overrated in the geek community (Whedon more than Abrams, especially when it comes to directing). The premisses to both of the shows sound intriguing, yet the fact that both have stars from the 1990's who have seen better days is a little worrisome. Many people are calling Fringe an X-Files rip-off, and some of the photos and poster art also give off that impression. One thing is for sure, I'll be watching both series when they premiere.
sources: tvweek, dollverse, multipleverses, NYTimes, USAToday, Future On Fox Blog