Movie Trailer: Woody Allen's Vicky Cristina Barcelona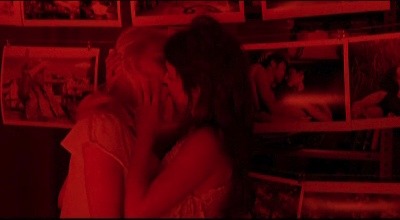 The movie trailer for Woody Allen's Vicky Cristina Barcelona has hit the web, in preparation of the film's premiere at Cannes. The story follows "two young American women, Vicky (Rebecca Hall) and Cristina (Scarlett Johansson) come to Barcelona for a summer holiday. Vicky is sensible and engaged to be married; Cristina is emotionally and sexually adventurous. In Barcelona, they're drawn into a series of unconventional romantic entanglements with Juan Antonio (Javier Bardem), a charismatic painter, who is still involved with his tempestuous ex-wife Maria Elena (Penélope Cruz). Set against the luscious Mediterranean sensuality of Barcelona, Vicky Cristina Barcelona is Woody Allen's funny and open-minded celebration of love in all its configurations."
It certainly looks like Woody Allen's sexiest movie. I'm sure a lot of men will check it out just for the scene where Scarlett Johansson and Penelope Cruz get it on. And apparently there's apparently a sexy threesome scene between Bardem, Johansson and Cruz. Although there is something creepy about knowing that Woody Allen is standing behind the camera. Wait, didn't he write this movie too? If you were a 72-year-old famous Hollywood director, what's to stop you from essentially writing a dream porn where you could cast your fantasy starlets. I'm sure we'll hear more about the movie when it premieres at Cannes.
Vicky Cristina Barcelona arrives in theaters on August 29th 2008.Discuss: What do you think of the Vicky Cristina Barcelona movie trailer?