The Weinstein Co To Make Fraggle Rock Movie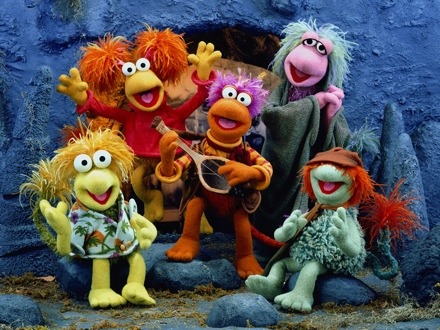 For some kids it was Sesame Street, for others it was the Smurfs, for my best friend Jon it was Nightmare on Elm Street (which explains... a lot), but for me I grew up watching Fraggle Rock. I've always believed that the Jim Henson created 1983 television show was vastly underrated. Meanwhile the characters have earned cred in the hipster crowd in recent years. We're coming up on the 25th anniversary of the series and The Weinstein Co have announced that they will be producing a live-action musical feature film.
The bad news is that Cory Edwards, the guy who directed the animated Hoodwinked! (which as you can tell, I wasn't too fond of) has been hired to helm and write the project. The story will supposedly involve the Fraggles leaving their home to interact with the Aliens (humans) in "Outer Space". Past rumors have involved a storyline where they go in search for Uncle "Traveling" Matt. While this seems like the logical direction to go in for a big screen adaptation, I think it's a bad idea. The great thing about Fraggle Rock was, well, Fraggle Rock itself. You take the Fraggles out of Fraggle rock and all you have is a bunch of muppets running around in the real world. And we already saw how that worked out in the last few Muppet films.
The television show ran for 96 episodes over five seasons and focused on a group of creatures called the Fraggles, who live in a system of caves called Fraggle Rock. he series focused on one tight-knit group of Fraggles in particular; Gobo, Mokey, Red, Wembley, and Boober. The "Theme song from Fraggle Rock" was actually a top 40 pop hit in Britain.
According to wikipedia, the vision of Fraggle Rock articulated by Jim Henson was to depict a colorful and fun world. Also a world with a relatively complex system of symbiotic relationships between different "races" of creatures, an allegory to the human world, where each group was somewhat unaware of how interconnected and important they were to one another. Creating this allegorical world allowed the program to entertain and amuse while seriously exploring complex issues of prejudice, spirituality, personal identity, environment, and social conflict.[1] Fraggle Rock generally refused to over-simplify any individual issue, instead simply illustrating the consequences and inherent difficulties of different actions and relationships.
You can watch the classic opening of Fraggle Rock below:
[flv:http://bitcast-a.bitgravity.com/slashfilm/trailers/fragglerock.flv 322 240]
Discuss: Should the Fraggles leave Fraggle Rock for the big screen movie?
source: Variety