Mark Millar's Kick-Ass In Pre-Production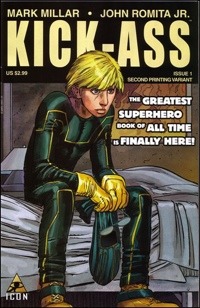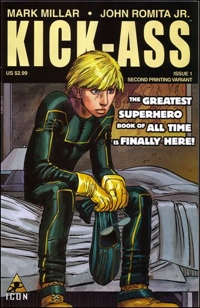 A film adaptation of Mark Millar and John Romita Jr's Kick-Ass has now officially entered pre-production according to Comic Book Resources. Based on the creator-owned comic from Marvel's Icon imprint, the story follows a a 15-year-old boy named Dave Lizewski who attempts to become a real-life superhero. The catch is that he has no powers or any of the stereotypical reasons for choosing to fight crime.
The screenplay was written by the Stardust team of Jane Goldman and Matthew Vaughn. And the rumors were true, the movie will be directed by Vaughn, who was previously attached to the Thor film (his holding deal expired). The project has been fully financed from his MARV Films company. They are currently searching for distribution options. Not only has the project entered pre-production, but they have already begun casting the adaptation. CBR teases that "when news breaks on a certain actor they have lined up..." that a distribution deal will be right around the corner.
Prior to the series launch a viral campaign featuring a short video of the main character of the comic being "caught on tape" was uploaded to YouTube and spread around the internet. The video shows the hero saving someone who was mugged in a supermarket car parking lot. Check out that video below.
[flv:http://bitcast-a.bitgravity.com/slashfilm/trailers/kickassviral.flv 450 362]
Thanks to the incomparable Mel Valentin for passing this along.