Breck Eisner's Creature From The Black Lagoon Remake Moving Forward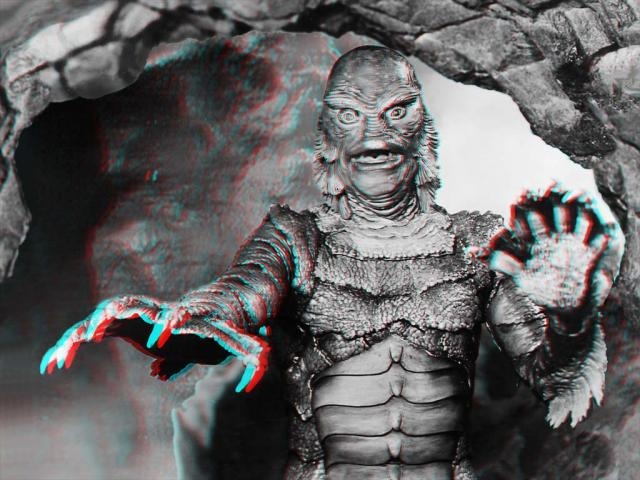 "Let's dance, Tom."
In the dizzying sinkhole of modern remakes, enough time has passed with 1954's Creature from the Black Lagoon to dampen fanboy squabbles over a new studio effort. Of course, the sci-fi horror reboot still needs to impress, and that responsibility falls with its director. While I hoped to see John Landis or Rob Zombie strike up fresh chills and gills in exotic locales, director Breck Eisner (Sahara, son of Michael) tells ShockTilYouDrop that his planned remake is moving forward, complete with locations scoped out in South America, a fully created, newly envisioned creature, and less than two percent aspiration to be the next Mummy 1, 2, 3, 9.
Eisner didn't draw comparisons to the tone of The Dark Knight (watch for an oncoming avalanche from countless PG-13 assigned directors), but did bring up fashionable parallels to The Wolf Man (the original) and Universal's other classic monsters (but not, you know, Sommers's The Mummy).
"We debated tone a thousand times. For me tone is the most interesting thing a filmmaker has and so the Creature is a creature, it's not a monster. That's my number one thing about the movie. We're not going to turn him into a monster. He's still going to be empathetic, he's still going to be deadly, he's still going to have a misguided means of expressing his interests in a woman, but it's uniquely the Creature. ...It will deliver of action and excitement, but I want it to be scary. The Creature was scary when it first came out in '54 – it's not scary today – but that's what updating means to me, updating the tone of the original."
In other words, don't worry too much, it won't be Sahara with a man in birthday suit. Intriguingly enough, Eisner references Werner Herog's Fitzcarraldo for inspiration and says he'll shoot partially in the Brazilian city of Manaus where Herzog and Klaus Kinski notoriously went nuts. The titular lagoon(s) has been chosen as well. When can we expect this then?
"I want to get [Eisner's remake of George Romero's The Crazies] done, get it into post-production then head to the Amazon for 'Creature.' Oddly, I'm waiting on the height of the Amazon river before we start shooting – it drops 50-feet in October and November. But we've got the boat set and everything ready to go."
Eisner says he's reworking the script by Gary Ross (Seabiscuit) and confirms that Spectral Motion (Hellboy, Fantastic Four) is a lock for the SFX. I'm really curious to see any artwork or the script for this, so please leak them. Mixing studio-pleasing action with genuine scares is nearly as hard to pull off as horror comedy, but Eisner's well liked and most in the know feel his best days and visions are in front of him. Creature > McConaughey's spray-on tan adventure.
Discuss: Now that it's picking up speed, what are your feelings on the remake based on Eisner's quotes and notions above? And given the creature's penchant for the ladies, do any of Slashfilm's female readers find it attractive? In 3D?
via AICN