Updated Box Office: $100M Still Possible For Iron Man Opening Weekend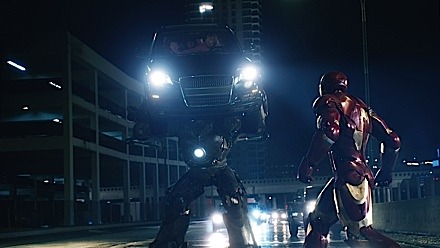 No matter how you look at the numbers, Iron Man (Paramount) is in the stratosphere, but I still believe that this first film from Marvel Studios will reach $100M for the weekend. My final prediction on Wednesday night was for the John Favreau-directed superhero pic to soar to $102M from Thursday night previews through Sunday. Some print and internet journalists thought I was crazy, and they were sticking with something more along the lines of $70M-$80M.
As it turns out, the extraordinary industry tracking that showed that Iron Man was out-performing last summer's Transformers in pre-opening audience surveys, has held true. Plus all of the speculation about the new video game release Grand Theft Auto IV dampening the movie's opening weekend performance was, as many studio execs told me, a non-issue.
Paramount now tells me this morning that Iron Man did $32.8M on Friday, which gets them to $38M when you add in the $5.2M from Thursday night reviews. The studio is projecting $95M by Monday morning. Now the question is will the film increase or decrease Friday-to-Saturday. My money is on a slight increase, which will get the picture past $100M.
There are 3 reasons why Iron Man can be reasonably be expected to get a Saturday increase. First, at some of the most lucrative megaplexes in the country there were 1am and 1:15am screenings of Iron Man added on the fly to handle high demand. All of the ticket sales from these late showings will be added to the Saturday total. Also, Cinema Score exit surveys show that audiences are giving Iron Man A+/A grades across the board. People love the movie, and, in the era of the text message, positive word-of-mouth travels faster than ever. Finally, its PG-13 rating makes it family-friendly, and it should receive a huge matinee bounce today.
It is now safe to say that Iron Man may be headed for $300M domestic, which will begin Paramount's $1 billion summer. Indiana Jones & the Kingdom of the Crystal Skull could get to $400M, followed by $200M domestic for Kung Fu Panda in June, a possible $100M+ for Mike Myers' Love Guru in July and a more certain $100M+ for Ben Stiller's Tropic Thunder set for August 15.
Read More on Fantasy Moguls.