The Incredible Hulk Movie Trailer #2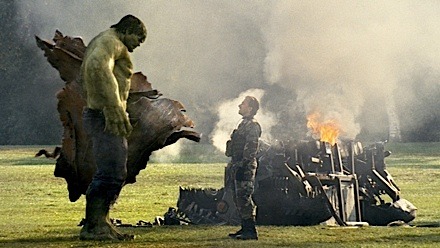 It all comes down to this new trailer for The Incredible Hulk, with the Marvel reboot's release on June 13th fast approaching and its positioning as the caboose of summer superhero flicks pretty much a lock as far as expectations and buzz go. This second trailer is far more well-rounded than the first in my opinion, which mounted everything on the Hulk's rather predictable-looking end battle with Abomination. Moreover, there is a nice amount of fresh and promising footage with the Hulk and with Edward Norton here, the latter of which has an agreeably slick general blockbuster Bourne-like feel to it.
We also get more Liv Tyler in various states of pouting duress and awe, which somehow makes it more interesting. And the Hulk's new intro satisfactorily plays up the character's proportion to his surroundings and is well-lit, which nicely contrasts with the dimness and grimness of trailers The Dark Knight and Hellboy 2. Overthinking much? Mebbs. However, are shots of the Hulk smashing cars and helicopters enough to push its grosses past Ang Lee's flick? And I still can't decide whether the Hulk still looks "fake" as so many fanboys like to shake their fists to.
[flv:http://media2.slashfilm.com/slashfilm/trailers/hulktrailer2.flv 470 196]
You can also watch the trailer in High Definition on Apple.com. The Incredible Hulk hits theaters on June 13th.
Discuss: What are your impressions of the new trailer for The Incredible Hulk? Does the film still rank last in your anticipation for this summer's comic book flicks after viewing this? Might it be a hit after all is said and done?