Dark Knight Viral: /Film Receives A Package From The Joker
Today I received a package from Gotham City. What could be inside? And who knew that the Joker used FedEx? Watch the video below to find out.
[flv:http://media2.slashfilm.com/slashfilm/trailers/tdkviral.flv 400 300]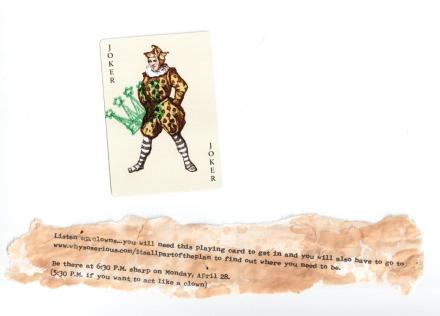 Yes, The Dark Knight Viral Campaign has entered our world again. If you go to the "It's All Part Of The Plan" website that we told you about last week, you will find that you are now able to click on the portraits on the wall. Each painting has a time and location where you and "300 of your closest friends" should gather.
"You'll need to be in contact with a partner-in-crime who has online access to relay your instructions once you're there. These instructions will give you the TRAIL to follow, but be sure to look both ways when crossing the street; we wouldn't want you to make an unscheduled visit to the ER now, would we? Put on a smile and plan to spend about an hour or so bonding with your fellow clowns. Check back here often for updates or changes."
Everyone is pretty sure that this latest scavenger hunt will lead to a screening of the new trailer. Notice TRAIL and ER are capitalized in the message above. So if you want to be part of the fun, find the location in your nearest city on the website, and be there tonight.