Frank Miller Wants To Direct Hard Boiled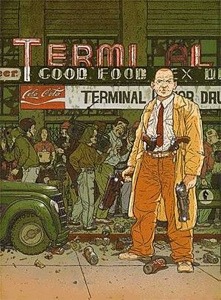 Frank Miller says he's not only working on a big screen adaptation of his 1990 three-issue mini-series Hard Boiled, but he also wants to direct it himself.
"We're talking about [it]. I've got a really unusual way I want to do it," Miller told MTV at the New York Comic-Con. "I'm in love with directing. I've found a way to expand my career. Comics and directing are really two sides of the same coin. That's what Robert Rodriguez taught me... good drama is good drama."
Miller says he wants to make the movie in "a really unusual way", let's hope that doesn't mean "another movie which will look and feel like Sin City".
The story follows Carl Seltz, a suburban insurance investigator who discovers he is actually a cyborg named Nixon, a berserk, homicidal tax collector who also happens to be the ultimate robot killing machine and the last hope of the future's enslaved mechanical servants. In 2001, Warner Brothers was in negotiations to adapt the comic book into a feature film, with David Fincher set to direct and Nicholas Cage to star, but it never happened.
Discuss: Should Frank Miller direct more movies or stick to making more comics?