Crank 2: High Voltage Cast Announced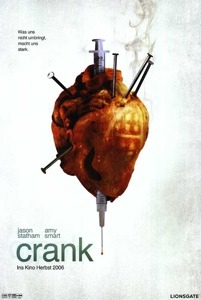 Crank 2: High Voltage is set to begin shooting on April 28th in Los Angeles and the casting announcements were made over the weekend:
Jason Statham returns as hitman Chev Chelios
Amy Smart returns as his girlfriend Eve
Dwight Yoakam returns as Doc Miles
Efren Ramirez returns, but as a character named Venus (Ramirez played Kaylo, who died in the original film)
Clifton Collins Jr. has been brought on board to play Chelios' nemesis
Bai Ling has also been brought on board
Crank 2 begins seconds after the end of the original film. Chelios must face a mobster who has stolen his nearly indestructible heart and replaced it with a battery-powered robotic heart which requires regular jolts of electricity to keep working.
Mark Neveldine has plans to introduce a new moving bullet-time camera rig which he invented for the production. It should be insane, but what else do you expect from Neveldine/Taylor.
source: Variety