The Andromeda Strain Trailer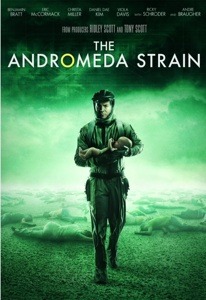 Yes, Ridley Scott and Tony Scott produced another remake/re-adaptation of the The Andromeda Strain, but this time in television miniseries form, and we have the first look trailer for this "two-night television event." Watch the trailer below and tell me what you think in the comments.
Based on the bestselling book from Michael Crichton (Jurassic Park), and from executive producers Ridley Scott and Tony Scott comes a four-hour miniseries adaptation of The Andromeda Strain. The story follows a team of scientists investigating a deadly disease from an alien world that threatens to destroy mankind.  Directed by two-time Academy Award® nominee Mikael Saloman (Cinematographer on Backdraft, The Abyss), and featuring a cast which includes: Benjamin Bratt ("Law & Order"), Christa Miller ("Scrubs"), Eric McCormack ("Will & Grace"), Ricky Schroder ("NYPD Blue"), Andrew Braugher ("Homicide: Life on the Streets"), Christa Miller ("Scrubs"), Daniel Dae Kim ("Lost"), and Viola Davis ("Traveler").
[flv:http://media2.slashfilm.com/slashfilm/trailers/andromedastrain.flv 448 254]
The miniseries will premiere on A&E television on May 26th/27th and be released by Universal Home Video on June 3rd, 2008.