First Look: Kevin Costner In Swing Vote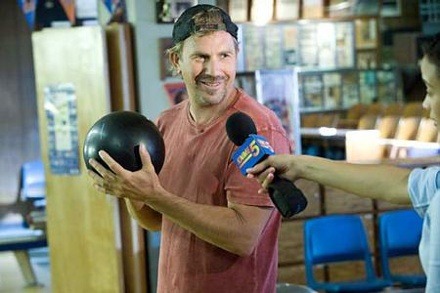 In a remarkable turn-of-events, the result of the presidential election comes down to one man's vote. Swing Vote stars Kevin Costner as Bud Johnson, a working-class single father who has the ultimate decision to elect the next President of the United States. Disney chairman Dick Cook called Swing Vote, "a timely and heartfelt story that is sure to touch and entertain moviegoers in the same way that some of the classic films by Frank Capra have done in the past." Yeah, a little bit skeptical over here. Frank Capra? really? Joshua Michael Stern, the writer of the 2007 direct-to-dvd Wesley Snipes action film The Contractor, helmed this project based on a script he also wrote with Jason Richman, writer of the very forgettable 2002 action comedy Bad Company starring Anthony Hopkins and Chris Rock.
The cast also includes Paula Patton, Kelsey Grammer, Dennis Hopper, Nathan Lane, Stanley Tucci, George Lopez, Judge Reinhold, Mare Winningham, Richard Petty and Willie Nelson and introducing Madeline Carroll. Hopper and Grammer play the Democratic candidate and Republican incumbent, while Lane and Tucci will play their respective campaign managers. Lopez is the local TV station manager of the town which is transformed the political world stage.
Touchtone Pictures will release Swing Vote on August 1st 2008, up against The Mummy: Tomb of the Dragon Emperor, He's Just Not That Into You, The Rocker, and the New York and Los Angeles release of Choke.
Photo credit: Filmz