Heath Ledger's Scene Not Cut From The Dark Knight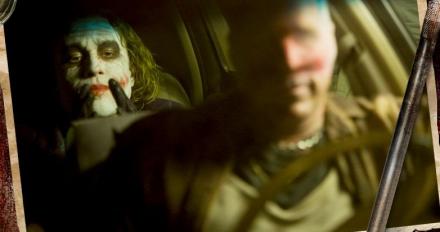 Our previous item on the rumor that a scene(s) has been cut from The Dark Knight showing (Spoiler warning...) Heath Ledger's Joker in a body bag is now up to a sweet 130 comments. The majority of Slashfilm readers feel quite passionately that it's a slight to Heath Ledger, the film, fans and Christopher Nolan to remove anything. Personally, I won't put myself in the odd and trivial position of decrying, "It's what Ledger would have wanted!" but the adamance here on the site is quite punk rock and impressive, really. Moviehole now reports that a source close to the production says not a damn thing will be changed in the final film come July...
"I KNOW for a fact that that scene is in the film. I also know that WB has made no such mandate and that Chris [Nolan] is honest when saying that he will not change what was intended with The Joker."
So, if the source is right, it's raining goodness for countless Slash readers this Saturday.
Sidenote: Clint at MH also reports that he's seen Iron Man, and while he doesn't give up any good/bad details, he confirms that Sam Jackson's Nick Fury is not in the flick.
Discuss: Happy? TDK is going to hit like a friggin' sledgehammer. What else needs to be said.