Jake Gyllenhaal Up For Lead In Prince Of Persia: Sands Of Time? Orlando Bloom Is Not.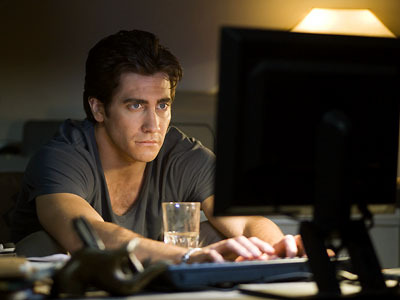 "Keep deleting my comments about laser cats Slashfilm. Keep deleting 'em."

Can I just say that I could not stomach the marketing for another movie, let alone a trilogy's worth, where Orlando Bloommassages a meticulously groomed goatee while having a sword fight? Gracias. Thankfully, Latino Review reports via numerous anonymous sources that an offer has gone out to Jake Gyllenhaal for the lead in Disney and Jerry Bruckheimer's summer 2009 golden egg Prince of Persia: Sands of Time. Their tip arrives as yesterday's rumor that Bloom had signed a $40 million deal to star in the franchise was dismissed by Slashfilm's brothers from another Film School Rejects.
The entire Bloom rumor seemed so out of whack that we held out reporting it, especially since it pegged Jerry Bruckheimer to direct instead of produce. Director Mike Newell (Donnie Brasco, Harry Potter and the Goblet of Fire) has been attached for quite a while, and it seems nothing has changed.
Gyllenhaal's peers all have franchises in the can or on the way, and while he's not the obvious choice for the adventure video game adaptation (who remems playing it on Turbo Duo?), he definitely adds legitimacy like Depp did for POTC. Latino Review goes on to parlay Hollywood jogging encounters with Mr. Gyllenhaal and points out that he currently has a bum ankle from basketball. Point being: Can Jake's lil' ankle heal in time?!?! Hahah. More on this as it develops...
Discuss: A goatee'd Gyllenhaal fighting a mystical sand storm for three films: could Prince of Persia be the next POTC?