Trick 'R Treat Dropped By Warner Bros., Currently In Distribution Limbo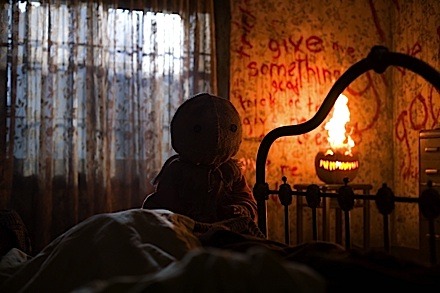 Boo! in a duel sense. Bloody Disgusting reported over the weekend that Legendary Pictures has screened their nicely buzzed Halloween-themed anthology flick, Trick 'R Treat, in hopes of picking up a new distributor. According to STYD, Warner Bros. (Where the Wild Things Are, ahem) has categorically removed the film from its 2008 schedule for theatrical and home entertainment releases after pushing the film off its original October '07 release date. What gives?
Not only is the film a much needed shot of original horror in a time of glossy mall-kid remakes (Prom Night, April Fool's Day) and sequels (Saw, TCM), but it boasts respected, recognizable faces (Anna Paquin, Dylan Baker, Brian Cox) and tested through the roof with fanboys. AICN has loudly championed writer/director Michael Dougherty's film for practically ages now. Moreover, mainstream awareness was boosted by the inclusion of a Trick 'R Treat trailer attached to DVDs of 300. There is speculation on the Nets that an Idiocracy-like situation has gone down, but there's no evidence as of yet.
The latest release date was set for October '08, which was a no-brainer. "If It's Halloween, It Must Be Saw" is the old dude in the club. Warner Bros. had a great opportunity to build a franchise and new moviegoer tradition with this real estate, and a new Creepshow would be next levs. Let's hope Legendary finds a proper replacement. More on this as it develops...
Discuss: Are you aware of Trick 'R Treat? If so, what have you heard? Why do you think Warner Bros. put the kibosh on it?