Breakin' 2: Daniel Day-Lewis In Talks To Star In Remake Of Fitzcarraldo!!!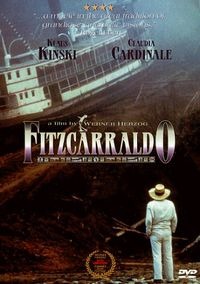 The good, and potentially great, news? This is just crazy, let me catch my breath. One of the best actors working today, Daniel Day-Lewis, is in talks to follow-up his Oscar-winning role in Paul Thomas Anderson's There Will Be Blood with yet another award-caliber epic. So, what's the sort of off-putting (but not necessarily bad) news? If it pans out, Day-Lewis's next film will belong to Hollywood's current remake pantheon, though this one sounds more like a bold and careful "re-envisioning."
Director Peter Weir (Master and Commander, The Last Wave) and Warner Bros. are fast-tracking an $80 million remake of Fitzcarraldo, Werner Herzog's classic and quite deranged 1982 film about an ambitious man who strikes out, against all rationality, to construct an opera house deep in the Peruvian jungle. Day-Lewis will star as the aforementioned man, a role originally made famous by the German nut Klaus Kinski.
If your gut reaction is to decry a remake of Herzog's film, that is understandable, but know that Herzog is on board to produce the remake. No word on how Weir will tackle-slash-update the original film's infamous and signature scenes, in which a steamboat was gruelingly pulled up and over a steep hill by natives, but it's being reported that this version will be set 50 or so years in the future. Guess that eliminates the steamboat. Mick Jagger, who was originally supposed to star in the '82 film, is said to be in talks to contribute to the remake's score. Obviously, it's unknown whether Day-Lewis would rock his intense 'stache, but The Hollywood Reporter reports that the main character is quite fond of a monocle, a futuristic monocle.
Discuss: Is Day-Lewis the monocled saviour of the modern remake? If it's not a steamboat, might it be some type of flying contraption? Would you rather see Weir's remake, or TWBB with Klaus Kinski as Plainview (a very living Kinski)?