Children Of Men: The Television Series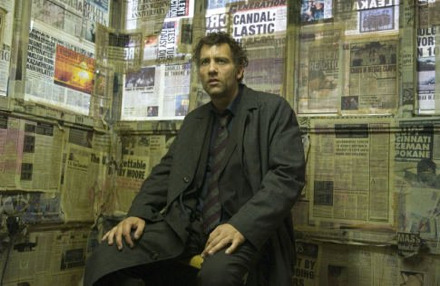 Alfonso Cuaron's Children of Men was one of my top 10 movies of 2006. When I saw the movie I was so enamored with this post-apocalyptic world where women have become infertile, and no one had been born in the last 16 years. Basically it's a world where everyone is living in knowledge that they are the last generation on earth. It's an interesting place for a story, and I always wished it could be explored at more length.
And now my wish might be granted, as it was announced at last week's SciFi upfronts that David Eick, writer-producer on the Battlestar Galactica and Bionic Woman contemporary remakes, is writing a pilot script for a series based on Children of Men. Of course in the movie, loosely adapted from the book (from what I understand the film used the story concept and not much more), "a disillusioned government agent agrees to help transport and protect a miraculously pregnant woman to a sanctuary at sea where her child's birth may help scientists to save the future of mankind."
"It's really taking root more in the origins of the novels in that it will focus on the cultural movement in which young people become the society's utter focus. Much like our culture, whenever Lindsay Lohan does something [and] it becomes the headline of every news show, it's about how, when you don't have a responsibility to the next generation and you're free to do whatever you want, where do you draw the line?" Eick said in an interview with SciFi. "It's not really a war show like the movie was. It's more an exploration of that issue."
The issue he speaks of is "how society defines responsibility, freedom and a sense of values when it doesn't necessarily believe humans will survive as a species." I'm in, especially if they try to incorporate some of the gritty visual cinematography that was part of the film.
Discuss: Will you watch a Children of Men television show? 
via: AICN