New Bootleg X Files 2 Trailer Appears Online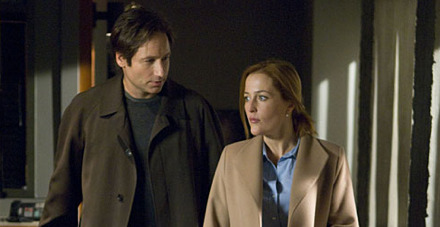 Late last month, a teaser trailer appeared briefly online for July's The X Files 2 and today another CAM bootleg has surfaced over at XFilesNews, this time for a full length trailer (embedded below). While I think the bootleg teaser trailer, which is now back up at YouTube here, is more intriguing, I'm left wondering about both in terms of smart marketing. The new trailer is said to be attached to May's Iron Man. Keep in mind that an entire decade has passed since Agents Mulder and Scully were on the big screen, and David Duchovny and Gillian Anderson, while both look great, haven't had a major movie or TV hit since.
Neither of these trailers has a real money shot or a big scare to place the sequel in the realm of this summer's diverse big guns like The Dark Knight, Tropic Thunder or Pineapple Express. Furthermore, both trailers use a lot of military, ice and snow imagery that automatically brings to mind the Antarctica shots from the original film's promotions. That film turned off general audiences and performed below expectations because it chose to focus on the TV show's confusing, Lost-esque "mythology."
The sequel will be a "stand alone" film, but that's not clear at all underneath the characteristically ambiguous messages and played-up mystery in these trailers. The marketing department doesn't have to outright state "This Time, No Alien Stuff...It's Scarier" but, umm, it's not a bad idea. Such a message can be easily communicated without spoiling the film, so why not go for it? There's a lot at stake for Chris Carter's franchise, and in a summer lacking scares (Midnight Meat Train seems to have gotten the boot), that's the way to go if he wants a hit. I'm all for a straight-up quality mystery thriller to escape the heat, but the season's event film competition is typically brutal, and that was clear back in 1998.
Discuss: Which trailer is more effective? If you're not interested in The X Files sequel, what would you need to see to change that? Is seeing Xzibit's face in the new trailer scarier than any conspiracy or monster mash in the series?