Crank 2 Spoilers Hit The Web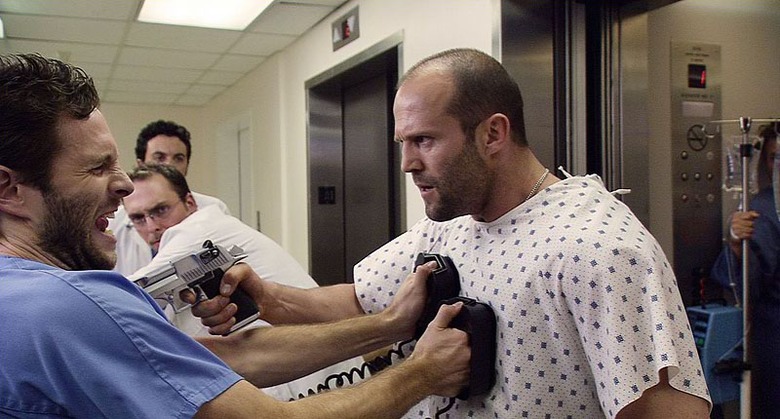 A slew of spoilerific and amazing character descriptions for Crank 2 just hit the web over at Spoiler TV. We've pasted them all after the jump. Judging from the run down, directors and Slashfilm party mates Mark Neveldine and Brian Taylor seem to really love the word "sociopath," and their Ritalin milkshake of a sequel should be all the better for it. I mean, a villain that is 100-years-old? Holy shit, that is awesome. What is this, Double Dragon? Sorry Scott Wolf, it's not. It's Crank, one of the best action flicks/franchises in years that arguably has its own subcategory: post-Shane Black.
And how Hollywood is it to list a character named "Pepper," to be played by a 20something actress, and conclude in all CAPS, "Must Be Okay with Nudity"? Furthermore, seems there will be more cheeky media commentary in the sequel, and while I know I mention this character in every other post, I would give anything to see Robert Downey Jr.'s nutzoid reporter Wayne Gale from Natural Born Killers make a cameo. If Jason Statham's Chev Chelios can survive a black market heart transplant (not to mention a helicopter fall), Gale can be resurrected!
Details after the jump...
Discuss: With the masses discovering and loving its predecessor on DVD, how big of a hit can Crank 2 be? And should audiences over 30 have to sign a health waiver to see Crank 3 (3D)? I mean, really...
Title: CRANK 2
CAST: Jason Statham, Amy Smart
EXEC PROD: David Rubin; PROD, Tom Rosenberg, Gary Lucchesi, Skip Williamson, Richard Wright; DIR/SCR, Mark Neveldine, Brian Taylor. Contract: SAG. Shoot Dates: April 28, 2008 (in Los Angeles, CA).
STORY: In spite of having fallen a mile from a helicopter at the end of CRANK, Chev Chelios faces a Chinese mobster who has stolen his nearly indestructible heart and replaced it with a battery-powered ticker that requires regular jolts of electricity to keep working.
Little Chev: 6-10, Caucasian, Male. A tough fowl mouthed British kid with a cockney accent. He is Chev (Jason Statham) seen in 1988, a bored, restless, troublemaker whose mother fears he is a sociopath. Seen on a Jerry Springer-ish UK talk show, he relives some of the incidents in his crowded young life — all of which seem to involve crime, violence and running.
ACTORS SUBMITTED MUST RESEMBLE JASON STATHAM
Talk Show Host: 30s-40s, Male. British. Cool but campy. The host of a trashy UK talk show, he's an aspiring Jerry Springer
wannabe who interviews Karen Chelios and her "troubled" son Chev. Blissfully unaware that Little Chev's life is remarkably similiar to an ultra-violent videogame, Talk Host chats earnestly with Chev, probing for the psychological source of his hyperactivity
Female Psychiatrist: 40s, an attractive female psychiatrist. She is Dr. Ankleson's blunt, somewhat irritable therapist. Clearly bored with his cringing yellow streak, she orders him off her couch and back to reality, a piece of bad, bad advice
Hu Dong: Chinese Male, 100 years old, this aged gangster is the leader of the Triad gang in Southern California. Rejuvenated after getting Chev's high-powered heart transplanted into his sunken chest, and horny as a 16 year old, he is lured into Doc Miles' clutches by the seductive Vanilla
Karen Chelios: Female. British accent. She is seen in flashbacks, this English woman with dark hair, and dark circles under her eyes is Little Chev's trashily dressed mother. Appearing on a tabloid talk show in the UK, she frets that her little demon of a son may in fact be a sociopath
Pepper: 20s, any ethnicity. This stripper is in the back seat of a patrol car when Chev and Eve steal the car. She's aroused by Eve's presence and gives Chev a tip about Johnny Vang's probable whereabouts. MUST BE OKAY WITH NUDITY
Fish Halman: This veteran anchorman is seen on television, reporting on yet another explosive day in Los Angeles
Chinese Doctors #1 & Chinese Doctors #2: A pair of Chinese doctors, they perform a heart transplant operation on Chev, replacing his own beating ticker with an artificial heart. Wrongly convinced that Chev is too doped up to cause any trouble, they're ready to harvest his testicles when Chev comes to and chokes them out. MUST SPEAK CHINESE
Glenda Lansing: 65 plus, an old lady. The older the better. We first see her at the racetrack, she is assaulted by Chev, who rubs himself against her to get some static electricity into his system. She later, delightedly and profanely,relives the moment on live TV
Detective: Older Male. Would love a notable actor here in a cameo. This baffled police detective tries to find out the bond that links Eve to Chev, and summarizes Chev's remarkable criminal career