The Showdown: Will Grand Theft Auto IV Bite Into Iron Man's Box Office?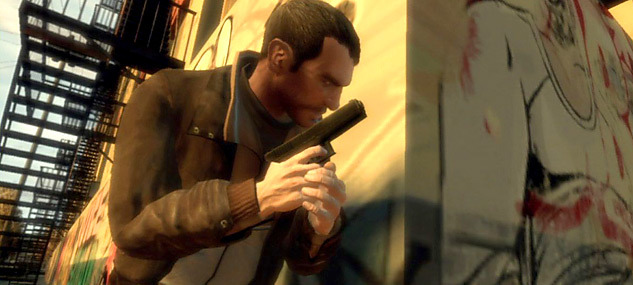 Has Tony Stark met his match? With grosses expected to be as high as $360 million in its first week alone, Grand Theft Auto IV, the long, long awaited sequel to Rock Star Games' classic video game franchise, will no doubt out gross Jon Favreau's Iron Man. That is not the showdown alluded to in the headline. These two stunning pop culture goliaths will duke it out for fanboys' dollars and attention spans at the same time, with GTA IV dropping on Xbox and PS3 worldwide on April 29th and Iron Man on May 2nd domestically, with remaining global territories set both before and after.

One has to wonder how much consideration Paramount Pictures and Marvel have and are giving this worldwide clusterf**k of awesome. Should they be worried? You guys and gals tell them in the comments. Over at GameDaily, an analyst named Mike Hickey, who works for GTA's distributor, Take-Two, is quoted as giving a big "Duh!" Hickey says GTA IV could be bigger than Halo 3, and we all remember Hollywood execs' eyes watering in awe when Bungie Studios opened up the skies to rake in torrential fanboy moolah back in September...
"We anticipate the video game release of GTA IV on April 29th could dampen the potential from Iron Man's theatrical release on May 2nd," said Hickey. "The domestic box office's first week of May release schedule includes Iron Man, Made of Honor, Redbelt and Son of Rambow. The last significant video game release, Halo 3, generated over $300 million in sales from its first week in the market. Halo 3 was released on just one platform, the Xbox 360, and attached nearly 50% of the installed base.
GTA IV will be released on both the Xbox 360 and PS3, which have both significantly increased their installed bases since the release of Halo 3. A GTA IV 25% attach rate to a combined Xbox 360 and PS3 installed base at its April 29th release would imply 5.8 million units sold or roughly $360 million in retail sales the first week of the game's release."
With a budget around $200 million, not counting considerable marketing costs et al, Iron Man is obviously a huge investment, and thankfully everything we've seen and heard from the film thus far is aces. But this showdown will definitely be interesting, and perhaps even set precedent for cinema versus video game pissing matches for years to come.
Discuss: Should Paramount and Marvel be worried? Will you be holed up exploring a vast and violent GTA New York City, too busy watching and rewatching Iron Man, or (I know, it's crazy) both?