SXSW Movie Review: Choke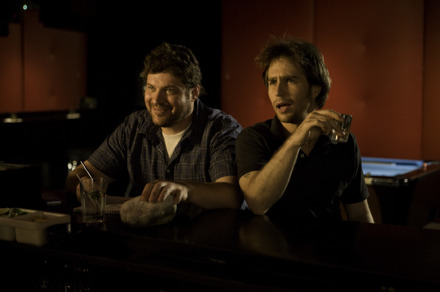 After watching Choke, an adaptation of Chuck Palahniuk's (Survivor, Fight Club) novel directed by Clark Gregg, the words vulgar, crude, profane, blasphemous, obscene, and, best of all, hilarious, all come to mind. A sharp critique aimed at our self-centered, self-absorbed culture, with a few digs at group therapy, psychiatry, and dysfunctional parenting, Choke is the kind of film that can be only made outside the Hollywood system, then gets picked up by a Hollywood-based distributor after it becomes a hit with festival audiences and critics, as Choke did at the Sundance Film Festival two months ago. Choke was picked up by Fox Searchlight, with a released planned for late August, a lucky month for them (Napoleon Dynamite, Little Miss Sunshine were both released in August).
Victor Mancini (Sam Rockwell) has a problem, actually many, many problems. Victor numbs himself with meaningless sex with a random assortment of women, young, middle-aged, beautiful, and not-beautiful, then shows up for his weekly group therapy for sex addicts. When he's not pursuing women with his fellow sex addict and best friend, Denny (Brad William Henke), he's working as a "historical interpreter" (i.e., tour guide) at a Colonial-era amusement park. Frequent run-ins with his boss, Lord High Charlie (Clark Gregg), who takes the Colonial experience far too seriously, don't help much. Worse, Victor's mother, Ida (Anjelica Huston), a former grifter who made Victor's life extremely difficult, has been hospitalized with Dementia and the prognosis is far from good.
To cover the costs of the expensive private facility that's caring for his mother, Victor runs a scam on unsuspecting restaurant patrons: he chokes on food, hoping one of them, preferably someone with money and a conscience will "save" him. Once they save him, he has them on the hook, frequently contacting them with requests for money to pay his bills or cover fictitious medical procedures (money he dutifully sends to the private hospital). Everything changes for Victor (as it should) when he meets Paige Marshall (Kelly Macdonald), a seemingly brilliant doctor who suggests a novel, experimental procedure for saving Ida from Alzheimer's and dying prematurely. And that's all before an out-of-left-field twist about Victor's paternal identity presents itself, upending Victor's views of who he is and who he wants to be.
If you've read or seen the film adaptation of Fight Club, then Choke is more of the same: sharp social and cultural critique delivered through scabrous, scatological, offensive, outrageous humor, all in service of whatever themes Palahniuk wants to express. Not surprisingly for a novelist for whose work pushes boundaries hard, adaptations of his work run the risk of appealing to only a small segment of moviegoers or a larger segment, but only if the adapters water it down it considerably. The latter happened here, at least where the ending is concerned (expect something wholly different from the novel). The new ending fits the film adaptation, but it veers far from the novel's Old Testament-style ending. But that's a minor problem for Palahniuk's fans (or it should be) and a non-problem for moviegoers new to Palahniuk's novels or Fight Club (all five of you).
Unfortunately, Choke has none of Fight Club's hyperactive visual style. Gregg doesn't have David Fincher's (Zodiac, Panic Room, Se7en) talent or skill as a director, but he also didn't have Fight Club's budget or Brad Pitt/Ed Norton-level stars. What Gregg does have, though, is a talented cast in the always underrated Sam Rockwell, excellent here as the emotionally damaged, amoral sex addict/con man Victor, Angelica Huston as his grifter mother, sweet and loving one moment, emotionally manipulative the next, Kelly McDonald, a Scottish actress memorable in No Country for Old Men who's just as good here showing solid range, and Brad William Henke as Victor's best friend and fellow screw-up/sex addict, who does the big man/wounded vulnerability bit convincingly.
/Film Rating: 8.5 out of 10