David Fincher To Produce And Co-Direct Animated Heavy Metal Film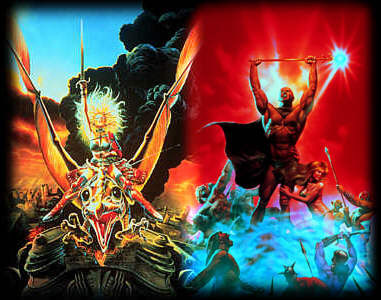 Director David Fincher (Se7en, Zodiac) is set to co-direct, oversee and produce an animated feature film based on Heavy Metal Magazine, the adult fantasy and sci-fi publication founded in the '70s that's still in print today. The R-rated flick will consist of eight or nine individual animated tales, each to be helmed by a different director, so expect some rather far-out names added to the project shortly.
At this time, Fincher, Kevin Eastman, who co-created Teenage Mutant Ninja Turtles and now owns and runs Heavy Metal (hmm, didn't know that), and Tim Miller, whose California-based Blur Studio (Transformers: The Game, NFL graphics on Fox) will handle the animation, will each produce and helm a tale, leaving five or six open for those whose brain/PC is calculator-less. Scantily clad babes (and dudes) with hyper-musculature wielding axes and beheading mega-beasts via the mind who brought Fight Club to life. Ooh la la. Not even the most bummed dude on Earth is bumming on a random carpet stain today. And again, major props to Paramount Pictures for allowing Fincher to do whatever he pleases.
Some may recall that two animated Heavy Metal (1981's Heavy Metal, Heavy Metal 2000) films already exist, both of which are usually found in the cult section of the video store you used to go to. Somewhere Sexman is trying to pass for 18 with a mustache made from chocolate milk, I have no doubt.
Discuss: \m/ or ...zzzz?
Source Link: Variety