SXSW Movie Review: Rainbow Around The Sun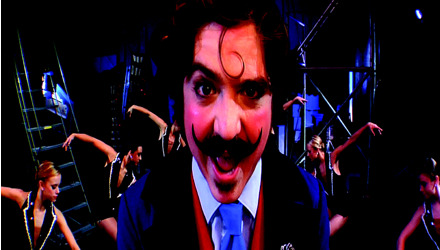 A rock opera/musical that's part Tommy and part Cabaret, Rainbow Around the Sun is a perfect example of what a talented group of artists and musicians can do when they have a modest budget and modern technology (e.g., HD cameras, Final Cut Pro) to work from. Filmed in and around Oklahoma City, Oklahoma by directors Kevin Ely and Beau Leland (who also edited) and based on a concept album (remember those?) by singer/songwriter Matthew Alvin Brown, Rainbow Around the Sun is, at times, startlingly original in its ability to take the best of two mediums, music and film, and combine them into a powerful, moving, moviegoing experience, one that deserves the wide play and not just in film festivals.
It helps, of course, to have a talented singer/songwriter/actor in Matthew Alvin Brown. Brown plays a character loosely based on his own experiences as a struggling musician. Brown's character, Zachary Blasto, buses tables by day and practices or performs at night with his band. When he isn't drinking himself into a stupor over his ill-advised breakup with his girlfriend, Debbie (Jamie Buxton), he's passing out and finding solace in dreamscapes that inevitably tie back to his ambitions to become a successful musician. In one recurring dream, he's a self-absorbed, but still hard drinking, rock star.
In another dream (or another level of reality), he's an emcee at an abandoned theater, performing deeply personal songs. In the real world, however, his irresponsible behavior gets him no closer to the rock star status he obviously craves or a reunion with Debbie, who has since moved on to another, presumably more fulfilling relationship (she still cares about Zachary, though). As his life slowly unravels, an old man with gray hair (Doug Van Liew) reappears, apparently to convince Zachary to sober up before he loses everything, including his life, to his self-absorbed, self-pitying, self-destructive behavior. Unsurprisingly, Zachary has unfinished business with his family and his ex-girlfriend to clear up before he can move on with his life.
Rainbow Under the Sun is more rock opera than classic musical, meaning characters don't, as a rule, break into song and dance, to express what's on their minds and what's in their hearts, alone, in pairs, or in groups, with one exception: the scenes set inside the semi-abandoned theater as the emcee, Zachary in another guise, first introduces his "real" world counterpart, interjecting only occasionally to comment via dialogue and song. Zachary as emcee is more self-aware than his real world counterpart, but that self-awareness has its limits. He's still Zachary, still blaming others for his own personal failures.
As a rock opera/musical centered on a musician struggling to succeed as an artist and in love, follows a familiar pattern, but it's not in the story of redemption and self-realization that Rainbow Under the Sun truly shines (sorry, couldn't resist), but in the combination of heartfelt songs delivered in the key of alt-country-rock with a barrage of dreamlike images that range from the silly (e.g., a floating mustache, a disco ball with a life of its own) to the disturbing (e.g., the scenes set inside the semi-abandoned theater, especially as Zachary reaches a crisis point in his personal and professional lives), but they're rarely less than inventive.
If Rainbow Under the Sun has any faults, it's unfortunately due to a limited budget that didn't allow Ely and Leland to shoot on film or with a higher-end HD camera. Detail in clothes or backgrounds is often lost or pixilated and characters leave "ghosts" behind when they move through the frame. For some, Rainbow Under the Sun will be too crude, production wise, to sit through. Too bad for them, though, as they're missing the best that indie film can offer: an energetically directed and performed rock opera that's just as emotionally satisfying and far more engaging than bigger budgeted films made in the same genre.
/Film Rating: 7.5 out of 10