SXSW Movie Review: Nerdcore Rising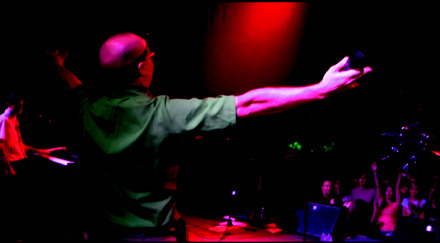 If, like the vast majority of music listeners, you're unfamiliar with the term "nerdcore," then you're in luck. Nerdcore Rising, an engrossing documentary directed by Negin Farsad, will answer any and all questions you may have about nerdcore, a relatively new hip-hop genre made by and for nerds (e.g., computer nerds, gaming nerds, and pop culture nerds). Farsad tackles nerdcore from various vantage points, interviewing hip-hop names like Prince Paul and J. Live, outside-the-hip-hop-box names like comedian Brian Posehn, singer/comedian 'Weird Al' Yankovic and Jello Biafra, the former lead singer of the Dead Kennedys, a post-punk rock band that had its heyday in the late 1970s through the mid 1980s, and closer to the hearts of nerdcore fans everywhere, MC Chris, MC Lars, MC Router, and Optimus Rhyme. Who? Exactly.
The interviews are included in Nerdcore Rising just for background and context, though. The bulk of Nerdcore Rising follows nerdcore rapper, MC Frontalot (a.k.a. Damian Hess, a.k.a. the rapper who came out with the term "nerdcore") and his band, Gaby Alter (keyboards), Brandon Patton (guitar), and Sturgis Cunningham (drums), as they go on tour for the first time to promote their first album, "Nerdcore Rising." Unsigned by either major or minor record labels, major or minor, MC Frontalot and his band are all about turning the DIY concept into reality. Self-funding a tour that begins in Spartanburg, South Carolina and ends at the Penny Arcade Expo in Seattle, Washington weeks later, MC Frontalot hopes to reach out to his presumably loyal, internet-based fans while gaining new fans for nerdcore hip hop.
The first few gigs don't go as hoped, though. Few fans show up. The hoped-for nerdcore groupies never make an appearance. Okay, that's not completely correct. One groupie does show up, but she ends up freaking out the band with her devotion to MC Frontalot. While MC Frontalot and his band mates keep up their spirits through jokes only fellow nerds or geeks could appreciate, MC Frontalot worries that the tour will be a bust and with it, the movement he founded (or, at least named). He also throws out his back, causing concern among his band mates that the tour will have to be cancelled. Luckily, Frontalot manages to overcome his back problems. Other problems soon surface. One band mate leaves a keyboard module behind at their last tour stop. With their next concert just a day away, Frontalot and his band mates come up with a brilliant plan that involves an unnamed music equipment corporate-owned store. The tour succeeds on at least one level: increasing MC Frontalot's confidence performing in front of crowds.
Luckily for MC Frontalot and his band, the tour ends at the Penny Arcade Expo in Seattle, Washington. Jerry Holkins and Mike Krahulik, the creators behind the Penny Arcade webcomic, founded the Penny Arcade Expo fill what they perceived was a need for video gamers, computer gamers, and tabletop gamers to have an expo of their own (in other words, a receptive audience for MC Frontalot's brand of hip-hop). MC Frontalot and his band mates go from performing in front of tens of fans to several thousand. Does he pull it off? Well, that's probably best left for audiences to find out for themselves. MC Frontalot continues to perform and tour to promote nerdcore hip-hop, though with a new drummer. MC Frontalot's next album, his third, is due in July or August of this year.