Bryan Singer Confirms Superman: Man Of Steel Sequel To Superman Returns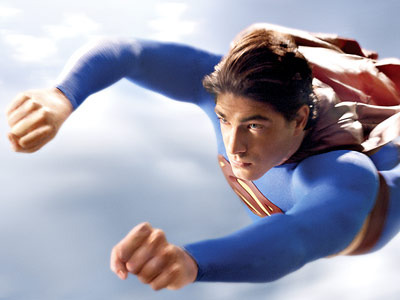 Some major developments for the sequel to Superman Returns, tentatively titled Superman: The Man of Steel, hit the web today in quick succession. First, IESB reports that they've received "100%" confirmation that Bryan Singer will return to direct the flick and they've also heard that writers Roberto Orci and Alex Kurtzman (Transformers, J.J. Abrams's Star Trek) are in major talks to replace Returns scribes Michael Dougherty and Dan Harris.
And then, later today Empire actually chatted with Singer, who not only confirmed his "intent" to direct, but once again defended Returns' poor critical, fanboy and box office reception, while playing up action in the sequel...
"That movie made $400 million!" Singer says to Empire. "I don't know what constitutes under-performing these days...Look, I can understand, I suppose, what some people mean. Perhaps some people went in with the expectation of it being like an X-Men film, and Superman is a tougher character than that. Especially bringing him back. It really goes back to the fact that you can only please some of the people some of the time. But, yes, I'm just getting back with writers after the strike. We're just in the development phase. I'm starting to develop a sequel...with the intention of directing it."
He goes on to jokingly jab at female fans who went ga-ga over Superman Returns, while mentioning the sequel's upped stakes...
"The first one was a romantic film and a nostalgic film," he says. "I'll be the first person to own up to that without making any apologies for it. I knew it was going to be that from the outset. And now that the characters are established, there's really an opportunity to up the threat levels...Clearly there'll be a body count [laughs]. From frame one, it will be unrelenting terror! All those teenage girls who found the movie and mooned over James Marsden or Brandon? Well, I'm going to wake them up!"
I'm moderately surprised that Warner Bros. is going ahead with a sequel rather than scrapping it and revamping the character once again a la The Incredible Hulk or Punisher: War Zone. Not to sound like a smirk jerk, but the first film, which cost $200 million (I'll still add an ! to that), totally blew it in my opinion and was basically one of the largest pet-projects ever. A Superman movie should reign supreme over all comic book films in terms of epic-ness, scope, special effects and box office, but even if Man of Steel boasts more action, it'll still be difficult to get stoked after the first faux-weepy, overly nostalgic bummer.
Update (2 a.m. EST): CHUD reports that writers Roberto Orci and Alex Kurtzman are definitely not attached to pen the Man of Steel screenplay.
Discuss: Can Singer knock a sequel out of the park? Moreover was the only complaint about the first film merely action-related?