SXSW Movie Review: Run, Fat Boy, Run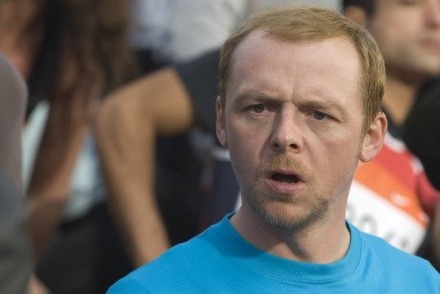 In just three films, actor/comedian/screenwriter Simon Pegg has gone from playing a lovable, if clueless, slacker fighting off a zombie apocalypse and saving his girlfriend, his best friend, and a pint of beer (not necessarily in that order) in Shaun of the Dead to an anti-slacker/overachiever/cop exiled to a small sleepy town experiencing a rash of mysterious deaths in Hot Fuzz and now, in Run, Fat Boy, Run, another slacker, maybe not quite as lovable this time, trying to win back the woman he left at their wedding ceremony five years ago. Offering a mix of raunch, silliness, slapstick, and sentimentality, Run, Fat Boy, Run is the perfect romantic comedy for moviegoers who don't care for the genre.
Dennis (Pegg) still regrets leaving his fiancé, Libby (Thandie Newton), at the altar more than five years ago, made all the worse because Libby was pregnant at the time. While Dennis seems to have lived down to his failure to marry Libby, working as a security guard at a women's clothing store, barely able to make the rent, Libby has moved on, running a successful bakery and dating an American businessman, Whit (Hank Azaria). As Dennis looks on, Libby and Whit get closer, Whit begins to take an active interest in Jake (Matthew Fenton). Feeling, rightly, excluded from Libby and Jake's life, Dennis agrees to run in a marathon that's only three weeks ago.
Out of shape and an everyday smoker, Dennis doesn't stand much of a chance of completing the marathon, but that doesn't stop him from giving it a shot. With his best friend Gordon (Dylan Moran), a slacker/gambler who bets on Dennis completing the marathon, and his landlord, Mr. Ghoshdashtidar (Harish Patel), acting as his coach and assistant coach respectively, Dennis can't lose. Actually, he can, very easily, but as the prospect of losing Libby and Jake looks increasingly likely, especially after Whit suggests a move to Chicago that would take Libby and Jake away from him, Dennis learns a few life lessons in (you guessed it) perseverance and self-discipline, both of which will make him a better father, a better husband (if he can convince Libby), and a better person overall.
A sports comedy/rom-com (as the British like to call it) that's more formulaic than either Shaun of the Dead or Hot Fuzz (where the romantic subplot was eliminated in favor of a platonic relationship), Run, Fat Boy, Run nonetheless proves that formula isn't the problem (at least not always), it's what you do with the formula or template that counts. Minus a too-long third act that follows, what else, Dennis' improbable marathon run (it lasts twenty-odd minutes), Run, Fat Boy, Run perfectly balances verbal and physical humor with advancing the story. Credit to that goes to Simon Pegg, who co-wrote the script with actor/comedian/writer Michael Ian Black (The State).
Director David Schwimmer (yes, that David Schwimmer) basically stays out of the way and lets Pegg and the rest of the cast do their thing and yes, that's all to the good. With a rom-com or sports comedy, the story and characters are more important than the visuals, something Schwimmer is obviously aware of from his previous experience working in television and film. Unfortunately, the one thing or rather person Run, Fat Boy, Run doesn't have is Pegg's onscreen comedy partner, Nick Frost. Frost co-starred in Pegg's last two films, but here doesn't even merit a cameo. Maybe next time.
Dylan Morgan, who contributed to a literally gun-wrenching death in Shaun of the Dead with Pegg and Frost, takes on the best friend duties. To be fair, Morgan's comic timing is almost as good as Pegg's or Frost's. It's just too bad Frost doesn't appear in Run, Fat Boy, Run. Hopefully, the Pegg-Frost-Wright (as in writer/director Edgar Wright, Pegg's writing partner on Shaun of the Dead and Hot Fuzz) will get together sooner rather than later (probably later as Pegg will next appear as Scotty in J.J. Abrams' Star Trek reboot).
/Film Rating: 7 out of 10